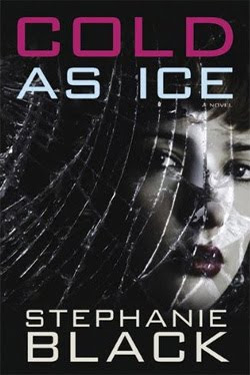 Cold As IceAuthor:
Stephanie Black
Genres:
Suspense/Thriller
Format:
Paperback
•
Pages:
296
Published:
2010
Publisher:
Covenant


After five patient years, Abigail Wyatt's sisterly care is finally paying off: her younger brother, Derek, is abandoning his self-destructive lifestyle and seeking his parents' forgiveness, thus ending the painful estrangement that wounded the whole family. But just as the pieces are falling into place for the prodigal's return, a woman is murdered in a local park—and police name Derek as the prime suspect. Rather than standing firm and cementing the positive changes in his life, Derek succumbs to his cynical fears and runs from the law, leaving Abigail with her hands tied. Literally.

Derek's raw panic convinces everyone that he's the killer—everyone except Abigail, who doggedly maintains her brother's innocence. With the help of Kyle, a friend she might be falling for, Abigail digs deep into the murdered woman's troubled past in hopes of clearing Derek's name. But as she uncovers a sinister plot of greed, envy, and vengeance, this loyal sister must face the painful truth that things—and people—are not always as they seem.
I received this book in exchange for an honest review.
I love Stephanie Black's mysteries. Her dark and twisty book, Fool Me Twice, is one of my all-time favorites. Like that book, Cold As Ice is LDS suspense. While religion does not play a big part in the story, it is mentioned occasionally and LDS beliefs on repentance and forgiveness are part of the motivating forces behind some of the characters' actions. However, it's not at all preachy and I doubt non-LDS readers would be offended by it.
I wasn't immediately captivated by Abigail's personality. I felt she lacked the spark I've come to appreciate in Stephanie's other protaganists. But as the story went on, I grew to respect her courage, her determination and her commitment to her brother. Also, she owns a bookstore. That means she's totally cool in so many ways that I forgive her for being kind of wishy-washy at times.
[And yes, I did let Stephanie pick my brain for the bookstore part of her research on this book because I was working at a bookstore at the time and we've become good internet friends over the years.]
I absolutely loved Abigail's brother, Derek. He reminded me so much of some people I know and my heart went out to him. I could totally see why he'd do the stupid things he did, making things worse and adding to the suspicion surrounding him.
Several promising love interests for Abigail wound their way through the plot, all of whom are also possible murderers—her ex-boyfriend, Brendan Rowe, who easily loses his temper when his reputation is threatened by Derek's situation; newly-available Kyle, who comes on a bit too strong for comfort; Chase McCoy, artist wanna-be, who is determined to get his paintings into Abigail's store; and Ethan Hanberg, the murder victim's ex-husband. While the potential romances were extremely underplayed, they provided tension and interest as each of them may have had motive and opportunity.
I suspected the real bad guy early on in the book, but couldn't say for sure who it was until just a few pages before it was revealed. I like it when that happens. Also, I like the romantic turn at the end but wish it had been played up a bit more, earlier in the story.
I give Cold as Ice 4 solid stars. I recommend this to readers to who like suspense, but want it without the gore and swearing.

***I won Cold As Ice in a blog give-away.
Related Posts