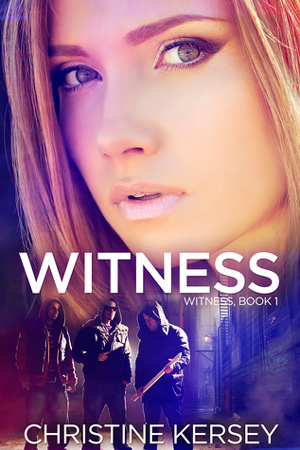 WitnessSeries:
Witness #1
Author:
Christine Kersey
Genres:
Young Adult Mystery/Suspense
Format:
eBook
•
Pages:
210
Published:
August 29, 2015
Publisher:
Indie
Source:
Purchased


College student Courtney Hartford's worries are confined to doing well in school and having an active social life. That is, until she witnesses a murder.

And then recognizes the murderer.

His warning not to tell, coupled with his threat against her life and the life of her mother, pushes her to make a difficult decision--tell the police the truth, or let the people who are threatening her control her life.
I received this book in exchange for an honest review.
This is the first book that I've read by Christine Kersey. I liked it.
Courtney is in college and her mother has recently moved out of state, so this is her first time on her own. Her mother has taught her well. But when Courtney witnesses a gang-related murder and is then threatened by the killer, she is at a loss for what to do. Honestly, I would be too.
The reader experiences a lot of Courtney's internal debate as she tries to do what is right and still keep the people she loves safe from retaliation. As she weighed her options, I found myself trying to decide what I would do in her place.
Some of the rehearsing in her mind felt repetitive to me. However, if I were a teen, I think I'd appreciate Courtney's internal struggle and constant evaluation of options. There were several times when, as an adult, I wanted to shake her and say, "Noooo!" Some of the right choices seemed so obvious. At other times, she thought of things I wouldn't have.
Her best friend was portrayed pretty well. Many of other characters weren't as well developed for my tastes—but again, a teen reader probably would be fine with it.
The plot worked for me. We get a satisfying ending with an opening for book two. The pace was fast with short chapters, which will appeal to teen readers.
What I liked best about this book is it gives the reader all the necessary thrills and chills of a suspense novel, without the over-the-top blood and guts that is so prevalent lately.
Technically Witness should fall into the New Adult category, since it features college-age main characters, but that category has lately become synonymous with lots of sexiness. This book is NOT that. It has no profanity or sexual content, and is a solid clean read for teens and older.
I recommend Witness to teens 15+ who enjoy a thriller. I give it a solid 4 stars.
Related Posts