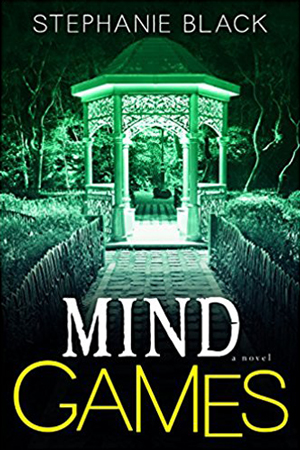 Mind GamesSeries:
Natalie Marsh #2
Author:
Stephanie Black
Genres:
Suspense/Thriller
Format:
Paperback
•
Pages:
312
Published:
September 1, 2017
Publisher:
Covenant
Source:
Author/Publisher

Psychologist Natalie Marsh's dream is now reality: her mental health services clinic has opened and is housed in an elegant, newly renovated nineteenth-century building. Unfortunately, not everyone is happy with the clinic's presence, including Heather Osbourne, a troubled young woman who wholly objects to the occupation of the building.

Heather has spent years wandering the halls of the abandoned structure, convinced she's communing with her ancestor's ghost. When Natalie thwarts Heather's attempt to leap from a window, the shaken psychologist soon realizes Heather's failed jump is merely one piece of a disturbing puzzle.

Greed and deceit are weaving a web around Natalie, and someone will stop at nothing—not even murder—to get what they want. Stretched to her breaking point, Natalie struggles to learn the truth, but only one thing is clear: nothing is as it seems.
I received this book in exchange for an honest review.
A Twisty-Turner Psychological Thriller
MIND GAMES is book 2 in a new series featuring psychologist Natalie Marsh. The first book is NOT A WORD, which I haven't reviewed here, but which was great. We're introduced to Natalie and her personal story in that book. You don't have to read that one to enjoy MIND GAMES, but it helps you to understand some of Natalie's motivations and reactions.
In MIND GAMES, Natalie is once again swept up in a mystery, where it soon becomes apparent that someone is after her personally, once again.
I love a really good twisty-turny suspense thriller where I can't figure out who the bad guy/gal is. MIND GAMES did not disappoint. There are a lot of characters in this book—and every single one of them (except the police) were suspect in my mind at some point in the story. I did finally decide that it was a particular person, and I was right—but there was a twist to it that I didn't see coming.
What did I think?
Characters: There are a lot of them, but they are written so well that it's easy to tell them apart after a few chapters. Natalie's outward behavior is almost too good to be true at times, but that's well balanced with her thoughts where she wants to react like I would. I'm really liking her.
There's also a love interest, Gideon, who I sometimes wanted to punch because he's giving her mixed signals, but by the end of the book, I'm okay with him. And I love their joking around. Pretty clever and funny.
Plot: This is key for a book like this and it was great. Throughout the book, you're not quite sure where it's going—in a good way! There are all these tendrils sneaking out, and all of them are wrapped up in a completely satisfying way.
I really, really liked this book. It gave me all the feels I want in a suspense thriller. But there was something else I really, really liked. The author confronts a lot of the mental health stereotypes throughout the book. Her clinic is getting a lot of heat from other business owners who share the building because they're afraid it will tarnish their image, or put their employees and clients in danger. I really liked how Black didn't let them get away with it. Through Natalie, she makes it really clear that mental illness does NOT equate with violence or danger. I give her lots of props for that!
There is some mild language and kissing/sensuality, plus mention of substance abuse. There's also some violence—two people die, and others get beat up badly—but it's not blood and gore. I'd be fine with teens, 14 & up, reading this. I give it a full 5 STARS and it will be part of my permanent library.
Related Posts