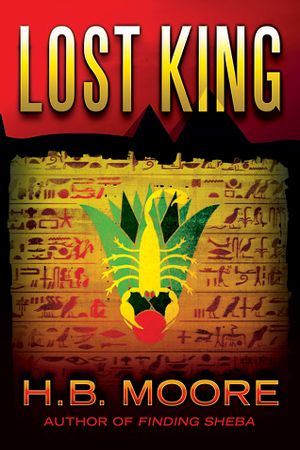 Lost KingSeries:
Omar Zagouri #2
Author:
H.B. Moore
Genres:
Suspense/Thriller
Format:
eBook
•
Pages:
338
Published:
December 1, 2015
Publisher:
Thomas & Mercer
Source:
Book Tour


Undercover agent Omar Zagouri has been ordered to Giza. A prominent Egyptologist was murdered, and a priceless artifact—the only complete version of the Book of the Dead—is missing. Omar is still reeling from the recent disappearance of his girlfriend, Mia Golding, but he puts his quest to find her on hold to track down the lost piece of history.

Omar's mission is not just to locate the sacred book; he must also rescue the two archaeologists kidnapped and forced to translate its hieroglyphics under threat of death. Their kidnapper is determined to discover the text's rumored explosive revelation: that Moses did not receive the Ten Commandments from God but instead copied them from the Egyptians. Though Omar's need to find Mia grows more urgent, he must focus on finding the enemy who will stop at nothing to ignite a controversy that will change history, and the world, forever.
I received this book in exchange for an honest review.
Part Spy Thriller, Part Historical
Lost King is book #2 in the Omar Zagouri series. The series includes Finding Sheba (book 1, which I read and liked) and Beneath (a novella, which I have not yet read).
Like Finding Sheba, which alternates between the current day adventures of Omar Zaguori and the historical story of Queen of Sheba, Lost King alternates between Zaguori and the Egyptian female pharaoh we now refer to as Hatshepsut.
The interplay between story of the lost scrolls which might change the history of religion forever, and the imagined "true" story of Hatshepsut was amazing. Moore has done a great job keeping the interest in both stories going throughout the book.
What did I think?
I liked the historical tale of Hatshepsut much more than Zagouri's present-day story. It was rich and strong and pulled me in. Even though Moore admits to taking literary license with Hatshepsut's facts and timelines, I wasn't at all bothered by that because there are simply too few actual facts in existence. I felt Moore's imagining was creative and wonderful, the sensory imagery put me right there in Egypt.
Hatshepsut was a strong character, as were the other characters in her story. Her love interest was compelling, and the culture and history kept me intrigued to the point where at times I was slightly irritated when I was pulled back into the modern-day story.
[bctt tweet="Discovering the truth behind lost scrolls can change the religious world forever LOST KING #amreading"]
The present day story, even though it's a Zagouri series, is less about him than it is about Kale Naji and Farrah Samra. They get pulled into the story when an archaeologist is murdered at the site of the Sun Temple. While Zagouri is involved in the mystery, he and his girlfriend, Mia, are almost secondary characters. I was much more interested in the thrilling adventures and budding romance between Kale and Farrah.
To say that the current day story was weaker is simply by comparison to the Hatshepsut story. It too had its moments of suspense and thrills, with characters racing against time to survive and save others. Sometimes it was too late, and other times victory came at the last second. A satisfying up and down adventure.
I give this book a solid 4 stars. It helps to have read book 1 in the series, but Lost King can carry itself if you haven't. Some violence and mild swearing.
Click here to find other reviewers participating in the blog tour.
And here's the Giveaway: Lost King e-book (ends 1/29/16):
No purchase necessary. You must be 18 or older to enter or have your parent enter for you. Open only to those who can legally enter. Winning Entry will be verified prior to prize being awarded. The winner will be chosen by rafflecopter and announced here as well as emailed and will have 48 hours to respond or a new winner will be chosen. This giveaway is in no way associated with Facebook, Twitter, Rafflecopter or any other entity unless otherwise specified. The number of eligible entries received determines the odds of winning. Giveaway was organized by Mindy from Min Reads & Reviews and sponsored by the author. VOID WHERE PROHIBITED BY LAW.
Related Posts