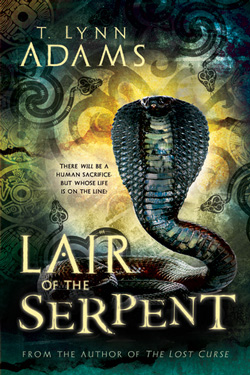 Lair of the SerpentSeries:
Tombs of Terror #3
Author:
T. Lynn Adams
Genres:
Young Adult Mystery/Suspense
Format:
eBook
•
Pages:
352
Published:
June 11, 2013
Publisher:
Cedar Fort
,
Sweetwater Books


Jonathon can't wait to surprise Delia for her birthday. With a little help from Delia's brother, Severino, he plans to visit her in Cambodia where she's working as a humanitarian volunteer. But he arrives only to find a panicked Severino—and no Delia.

Jonathon and Severino are determined to find Delia before it's too late—but it might not be that easy. Now, with the orphan Chey and their friend, Juan, the boys must fight their way through human trafficking rings, a dense jungle, and a radical group bent on using Delia as a human sacrifice in order to find the Nãga Mani, a sacred and powerful stone.
I received this book in exchange for an honest review.
Got an older teen looking for great suspense but you want one that's clean and that you can feel comfortable letting your kid (and yourself) read?
Here's a great one!
Lair of the Serpent by T. Lynn Adams is the third book in a mystery/suspense series about teen-ager Jonathon Bradford.
We first meet Jonathon in Tombs of Terror, when at age 16 he goes to Peru to reconnect with his father and ends up getting lost in the tunnels under ancient ruins. Tombs is the author's debut book and could have been edited a little tighter, but the action and storyline was entertaining and suspenseful. A good read for teens. (3 1/2 stars)
In the second book, The Lost Curse, Jonathon's friend Severino (from Peru) comes to visit him in southern Utah and they, along with Tallie, a Native American girl, are swept up in the mystery of Spanish Gold. Again, the action is intense, there's some violence, but older teens and adults can handle it. (4 stars)
Book three, Lair of the Serpent, is the one I just read. Jonathon joins Severino and his sister Delia (Jonathon's love interest) in Cambodia and gets swept up in a deadly mission.
From the publisher: 
I liked this book, but I had one big problem with the premise:
What parent in their right mind lets a teenager go to Cambodia ALONE?!?
Okay, now that I've got that out of my system, I loved the book. I really like mystery and high suspense but it's getting harder and harder to find good, clean, "safe" reads—especially for teens. In my opinion, this book is on the violent side of things, but it fits the storyline. I'd approve it for older teens and feel comfortable recommending it. Readers will get the thrill of the suspense without all the language and sexuality that is so pervasive these days.
The plot kept me interested. Once I got past the teens alone in a foreign country bit, I bought into the whole adventure and had a hard time putting it down. Jonathon (17 now) and Severino are 100% committed to finding Delia, and it's a good thing because they pay for their efforts big-time. More than once those two boys put their lives on the line and are rewarded with severe beatings. A couple of times I wondered if Jonathon would really be able to do what he did with the injuries he had, but I'm willing to suspend some disbelief here.
I found the culture of Cambodia fascinating. The descriptions of the settings were beautiful and rich. I could absolutely picture myself there amid the sights and sounds and smells of the country. The legend behind the sacred stone was interesting.
The characterization was pretty good. Jonathon and Severino were a little intense and maybe overly macho, but I know a few boys in my neighborhood like that. I wondered a few times at who the bad guys were going to turn out to be, and that's always good. I felt Delia was believable. I didn't quite believe Juan's characterization—he's an adult. He flies from Mexico to Cambodia to help out but HE DOESN'T IMMEDIATELY TELL Jonathon's parents what's going on. (It's that adult/right mind thing again.)
My favorite character, hands down, was the 12 year old Cambodian orphan, Chey. He was funny, clever, and highly underestimated by the other characters in the story. I loved him!
Overall, I give Lair of the Serpent 4 stars, with a caution on the violence. Parents who are concerned may want to pre-read it before recommending it to a teen under 16. I was okay with it because I felt the examples of courage and personal integrity far outweighed the discomfort of the violent events.
ENTER TO WIN THE ENTIRE THREE BOOK SERIES!
Follow the tour & enter to win at every stop!
Related Posts