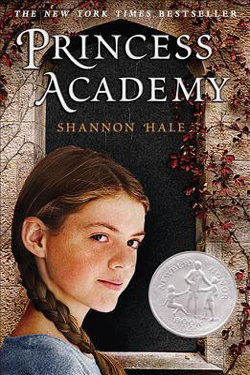 Princess AcademyAuthor:
Shannon Hale
Genres:
Middle Grade Fantasy
Pages:
336
Published:
2005
Publisher:
Bloomsbury USA Childrens


Miri lives on a mountain where, for generations, her ancestors have quarried stone and lived a simple life. Then word comes that the king's priests have divined her small village the home of the future princess. In a year's time, the prince himself will come and choose his bride from among the girls of the village. The king's ministers set up an academy on the mountain, and every teenage girl must attend and learn how to become a princess.

Miri soon finds herself confronted with a harsh academy mistress, bitter competition among the girls, and her own conflicting desires to be chosen and win the heart of her childhood best friend. But when bandits seek out the academy to kidnap the future princess, Miri must rally the girls together and use a power unique to the mountain dwellers to save herself and her classmates.
Princess Academy is written for 9 to 11 year old girls and I think it absolutely hits that target reader. As an adult reader, I thought the story moved a little slowly at times, but that is a reflection of life on Mount Eskel—and most middle grader readers won't even notice.
Although learning to be a princess and the unexpected win of the underdog are common plot scenarios in a lot of middle grade fantasy stories, in this book it felt fresh and new. I didn't find it tiring or same-old, same-old at all.
I  love stories where the girl is the hero—not because she's beautiful or rich or lucky, but because she is smart and hard-working and determined to succeed. Miri is brave, courageous, and unwilling to give up in the face of all odds. When my girls were growing up, I "planted" books like this one for them to read because I wanted them to get that message. It's what is on the inside that counts. No matter how small or insignificant you may think you are, courage and tenacity wins the day.
This is definitely a book that I will hang onto for my future grand-daughters.
Note: I originally read and reviewed this book in 2007. When I updated to this site, I put the newer paperback cover on because I think it's much more attractive than the original.
Related Posts