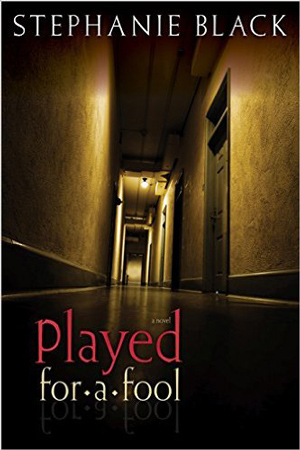 Played for a FoolSeries:
Fool Me #2
Author:
Stephanie Black
Genres:
Suspense/Thriller
Format:
Paperback
•
Pages:
336
Published:
September 5, 2015
Publisher:
Covenant
Source:
Author/Publisher


Three years ago, the small town of Britteridge was rocked by the senseless murder of Gail Ludlum. Now the people most affected by the tragedy have returned to the place where it all began, and the scene is set for the perfect revenge…

Megan O'Connor's life was shattered when she was unwittingly drawn into a kidnapping plot that ultimately led to the murder of an innocent woman. Though the road to redemption has been long, she's finally found happiness with her recent engagement to a wonderful man, a pillar of the community. But amid the chaos of wedding planning, the return of Gail Ludlum's son to Britteridge sets in motion a disturbing sequence of events. Soon Megan finds herself the victim of a series of cruel deceptions that indicate one thing: her past mistakes have not been forgiven or forgotten. As the mischief escalates to dangerous levels, it becomes clear that someone is determined to avenge Gail's death. And he won't rest until he's taken a life for a life.
I received this book in exchange for an honest review.
First off, up front, I own almost all of Stephanie Black's books, in paperback, most of them I've bought with my own money. This one she sent me in exchange for a review. Since I've fan-girled over her for years, she probably thought that was a pretty good investment on her part. And she was right.
When I read Stephanie's first book, The Believer, I didn't know her at all. The book had an interesting premise, it was on sale, and I picked it up to give it a try. Loved it. Over the years since, I've come to know Stephanie—first as one of her fans, and then in person as I went to her book signings and author conferences where she taught classes. Later, I was able to be a resource when she needed info on running a bookstore for Cold as Ice (I was assistant manager of a bookstore at the time).
One of the main things I like about Stephanie's books is that they are twisty and sneaky and clever, but they don't cross the line into guts and gore. Yes, people get hurt. Yes, they die. Yes, her bad guys and gals are usually freaky social misfits that would kind of scare the snot out of me if I met them in real life. But they don't give me nightmares and they don't make me want to hurl over the grisliness of it. I appreciate that.
So now for the review of THIS book—which is going to be difficult without giving away spoilers. My all-time favorite suspense book by Stephanie Black is Fool Me Twice, about twin sisters, Megan and Kristen O'Conner. They get caught up in a twisted plot of murder and revenge and havoc is wreaked all over the place. While you don't have to read Fool Me Twice first, I strongly suggest that you do. (It's going to be difficult to find a print copy but my links will take you to the Kindle edition on Amazon.)
Played for a Fool picks up three years later, with Megan in college and planning her wedding. Life has gone on, the bad guys/gals have gotten their just rewards, and people have mostly healed from the earlier trauma. Then hate letters and mysterious emails start showing up, and it seems like it's starting all over again. The suspense escalates and escalates, and honestly, the last 20 pages of the book I could not read fast enough!
Where Fool Me Twice kept us guessing as to who the master-mind was through most of the book, in Played for a Fool, we (the readers) know right up front who the crazies are. This time, it's a race against time. Can the characters figure it out before someone ends up dead? Let's just say it was a fun ride. I was continously surprised by the twisted cleverness of the one pulling the strings. I devoured this book in one day.
I liked Megan, the main character. Trevor, her fiancé, was a little too handsome and rich, but we saw some weaknesses and faults that made him more likeable. My favorite character was Bryce, ex-con trying to be a better person. At first, I didn't like him so much. I thought he was just a loser. But as the book went on, I saw more sides of him and really came to appreciate his challenge. Contrasting him with Noah was almost a case-study in the damaging effects of anger and bitterness. There were just a few places where I wanted more characterization than was delivered, but not enough to take off points. Some of the characters are LDS (Mormon) but other than mentioning a temple wedding, there really was no religion in the book.
While Fool Me Twice is still my favorite—just because I like guessing who the wackos are—Played for a Fool was a very satisfying read. I recommend it. A solid 4 1/2 stars.
Related Posts