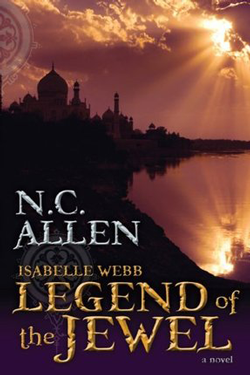 Legend of the JewelSeries:
Isabelle Webb #1
Author:
N.C. Allen
Genres:
Historical Fiction
Format:
Paperback
•
Pages:
226
Published:
2008
Publisher:
Covenant


Former Pinkerton spy, Isabelle Webb, needs a vacation. The broken leg she suffered while trying to warn President Lincoln of his impending assassination has mended a little, but her grief over his death has not.

She and her young charge, Sally Rhodes, have an open itinerary when they board a steamer ship to Bombay. But upon meeting Utah blacksmith James Ashby, the two women opt to join the search for his younger brother Phillip, who's traveling abroad with the ill-reputed Thaddeus Sparks in search of a mystical treasure.

Upon arrival in India, other passengers are also interested in taking up the search. But the seeming good will of some soon turns dark on the streets of Bombay. As murder and kidnapping tears the group apart, James and Isabelle race to uncover the hidden motives and harrowing connections that threaten not only Phillip's life, but also their own.
I'm not really sure which genre to put this one in. It definitely has a historical setting, just after the American Civil War and the assassination of President Lincoln.  It also has mystery and suspense, as Isabelle and her friends chase after the elusive Jewel of Zeus. There's some romance—just a little, but it's definitely a plot point. But there are some fantasy elements, as well, with the mystical happenings surrounding that missing jewel… But however you classify it, it was pretty good.
This is the start of a new series, loosely connected to Allen's previous historical series, Faith of Our Fathers, but it stands on its own without the need to read the first series (unless you want to).
LDS (Mormon) themes and content are present in the story, but not at all overbearing. Mostly it's referenced in connection with one character, James Ashby.
I love Isabelle's strong and fierce personality, and the interplay between herself and James. They will make a good couple if they ever stop fighting.
I thought this was a fun read, and a little reminiscent of Elizabeth Peters' Amelia Peabody series (which I loved). If you're in the mood for period piece with good, clean fun and an exciting adventure strewn with dead bodies (minus the gore), this is a great one.
Related Posts