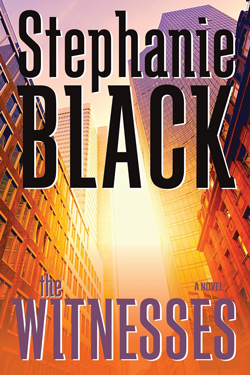 The WitnessesSeries:
The Believer #2
Author:
Stephanie Black
Genres:
Science Fiction & Futuristic
Format:
eBook
•
Pages:
320
Published:
October 1, 2013
Publisher:
Covenant

|


Welcome to New America, where patriots are traitors and religion is a crime.

After government agent Daniel Lansbury fakes the executions of three believers on national television, he and the fugitives Alisa Kent, Ian Roshek, and Ian's sister, Jill, face the perilous task of outwitting President Amanda Ryce and her power-hungry Council long enough to escape to freedom.

While a government reformer is on their side, rigorous new security measures thwart any chance of aid. And Daniel's estranged father, Marcus, an underground terrorist leader, is hatching plans to sabotage the breakable trust between Daniel and Ian and put himself in power at the head of the nation.

As faith and loyalties come under fire, the fugitives struggle to stop Marcus and his zealous terrorists and bring to light the wrongs committed against the citizens of this fragile, fledgling nation.
I received this book in exchange for an honest review.
I am so far behind in writing promised book reviews. I have no excuse except… um… life. But I'm working to remedy that right now.
I got my copy of The Witnesses by Stephanie Black the second day of Black October.
(That's what I'm calling it because I was sick all month.)
I was sooo excited to get it because it's the sequel to The Believer (see my review here). I couldn't read it right away because I was too sick, but believe me, the minute my germy fingers had the strength to turn the pages, I opened the book and was immediately sucked into the tribulations of New America.
(And just a side note, apparently I was sick when I read The Believer 7 years ago. I am certain I was secretly injected with nano-bacteria both times in an attempt to keep me from reading these books, which are a warning to all about secret combinations and plots to take over the government. I blame Marcus and his terrorists.)
(Okay, I am really not a conspiracy nut. That would be funny if you'd read the book. And you should. Read the book, that is.)
You might remember that in my review of The Believer, I mentioned a couple of glitchy places. There were no glitches in this book! I loved every single fast-paced, action-packed word of it!
I loved the characterizations in this story. They all rang true for me. I especially liked Alisa Kent, former hard-case enforcer, now shattered by guilt and the mind-bending drugs given to her by the government she helped protect. Her journey to healing was inspiring. I also really liked the character of Amanda Ryce, power-hungry president of New America. I found her scheming commitment to self-preservation well written and believable. And Daniel—oh, man. Poor guy. He was so conflicted, I wasn't sure which way he was going to turn.
The pacing was fast. Really fast. Most of the time I like a breather every once in awhile, but this worked. I felt like I was right there on the run with Ian, Alisa and Jill.
The political intrigue felt right to me. Not that I know anything about political intrigue, but it made sense. I felt everyone, good and bad guys, had believable motives and acted accordingly.
Stephanie Black has done it again and The Witnesses gets 4 ½ stars from me. Fool Me Twice is still my favorite Stephanie Black novel, but only by a hair.
Related Posts