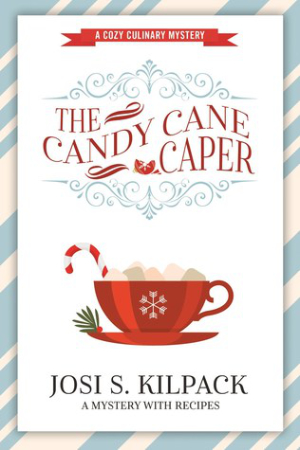 The Candy Cane CaperSeries:
Sadie Hoffmiller #13
Author:
Josi S. Kilpack
Genres:
Cozy Mysteries
Format:
eBook
•
Pages:
320
Published:
October 1, 2019
Publisher:
Shadow Mountain
Source:
NetGalley


The theft of a friend's priceless, family-legacy Christmas ornaments brings amateur detective and culinary expert, Sadie Hoffmiller, back on the case in a new standalone cozy mystery.

In the latest chapter to the Culinary Mystery series, amateur detective Sadie Hoffmiller continues combining her sleuthing with her cooking and baking to connect with people and gain information she might otherwise not have access to. Moreover, now that Sadie is married to Detective Pete Cunningham, she has a street-savvy husband to test out her crime-solving theories.

With Christmas approaching, Sadie is preparing for a large blended-family gathering including many new grandchildren--in their home in Fort Collins, Colorado. Even with the festive chaos, Sadie drops everything when word gets out that her friend, Mary, is the victim of a holiday robbery.

At ninety-four years old, and nearly blind, Mary knows this is may be her last Christmas and the last year to enjoy her family heirloom Christmas tree ornaments. She wants just one more holiday to display her ornaments and following Christmas Eve Mass, she'll pass them on to her great-granddaughter, Joy. Though priceless to the family, the collection has been valued at $40,000, and the Christmas tree in the care facility has never looked so good. But before the ornaments can be retrieved by Mary, eleven of the most expensive ornaments are stolen.

A holiday Christmas caper might be new to Sadie, but she's ready to mix in her seasoned crime-solving skills with a pinch of new holiday recipes.
Sadie is back!!!
I just cannot tell you how excited I was when I heard there was going to be a NEW Sadie Hoffmiller cozy mystery. I have loved every single one of the previous 12 books and I'm thrilled that we get to revisit her world.
In this book she and Pete are happily married and are preparing to spend the holidays hosting family. Sadie hasn't done much investigating lately. Instead, she's been volunteering at the local senior center—and she has stumbled upon a mystery. This time it's not a murder, but a theft of some valuable items—and Sadie is determined to solve the mystery and get those items back for her friend, Mary.
[br]
What did I think?
I loved it!! Of course I did. Sadie is just as entertaining and up to her sleuthing hijinks as she's always been. We don't see much of Pete and the family until the end of the book, but that's okay because Sadie can carry the entire story herself!
There are so many characters who could be the theif and it was fun finding clues, then determining they were unreliable. Sadie learns a lesson in judging others when she finally discovers who did, and who didn't, do it.
If you like culinary mysteries, you'll love this one. It's chock full of fun recipes. It can be read as a stand alone, but I think you'd appreciate it more if you've read the other books in the series.
There's no language and very little violence. I'd be comfortable recommending it to ages 14+. I give it a solid 5 STARS.
Related Posts