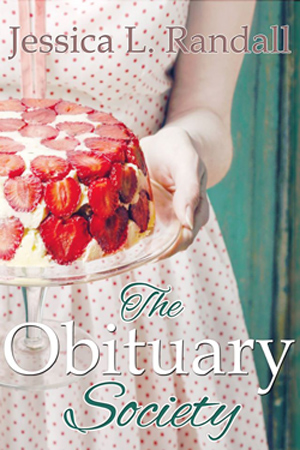 The Obituary SocietySeries:
Obituary Society #1
Author:
Jessica L. Randall
Genres:
Cozy Mysteries
,
Romantic Suspense
Format:
eBook
•
Pages:
216
Published:
July 29, 2014
Publisher:
Indie
Source:
Purchased


When Lila Moore inherits her grandfather's house, she finds herself in a small Midwestern town where margarine is never an acceptable substitution for butter, a coveted family recipe can serve as currency, and the friend who will take your darkest secrets to the grave will still never give you the secret to her prize-winning begonias.

Lila is charmed by the people of Auburn, from the blue-eyed lawyer with the southern drawl to the little old lady who unceasingly tries to set Lila up with her grandson. But when strange things begin to happen, Lila realizes some of her new friends are guarding a secret like it's a precious family heirloom. It's a dangerous secret, and it has come back to haunt them. Lila is caught in the middle, and her life may depend on uncovering it. But even if she can, can she stay in Auburn when not everyone is what they seem, and even the house wants her gone?
Part mystery, part romance, part paranormal twists.
This is definitely what I'd call a cozy mystery—there's a mystery to be solved and Lila is an amateur. But it is also strong on romance, a woman finding her place in a new town, and there's a bit of a paranormal aspect as well.
Just the kind of book I love to read!
What did I think?
Oh. My. Gosh. I loved this. It needed a better proofreading—and the errors pulled me out of the story. It was frustrating, but the story was so good it didn't keep me from reading as fast as I could. I read it in just a few hours. I couldn't stop.
I really liked Lila, and the old ladies in the town were classic! I loved there obituary club and the way the interacted with each other. The dialog was funny and clever. But I absolutely fell in love with Juniper, a little girl who is too smart for her own good. I hope to see much more of her in the future.
I liked the plot, the twists and turns, the red herrings. The ladies are hiding a secret, and they hide it well. I just wasn't quite sure who was on the level, or if any of them were fully sane.
I love a well-done small town, with all the nuances that come with it. I could revisit Auburn over and over again. In fact, I did. I enjoyed the story so much that as soon as I finished it, I immediately bought book #2.
I recommend The Obituary Society to anyone who likes the small town cozies, with unique (and sometimes batty) characters. I give it 4 1/2 STARS.
Related Posts