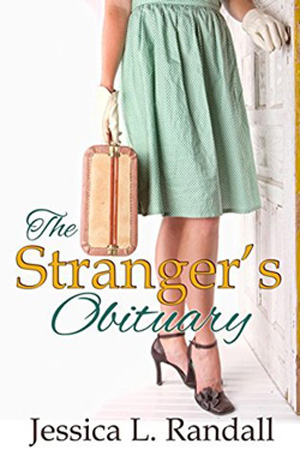 The Stranger's ObituarySeries:
Obituary Society #2
Author:
Jessica L. Randall
Genres:
Cozy Mysteries
Format:
eBook
•
Pages:
216
Published:
June 4, 2015
Publisher:
Indie
Source:
Purchased


Welcome to Auburn, where fresh baked cookies hold the key to your future, and a melody carries the secrets of your past.

Mina Fairchild keeps to herself, and that's the way she likes it. Her secluded life protects the secrets she hides, as well as a certain peculiarity that even people in the colorful town of Auburn, Nebraska find strange.

But when her movie-star sister Bernadette shows up on her sofa, Mina's cozy bungalow is overrun with paparazzi. One dark eyed reporter seems to see straight into Mina's soul and her world begins to crumble. It's bad enough when he noses around her secrets, but then he starts digging for information about her mother, and Mina can't let that happen.

Bernadette fled her Hollywood life after her boyfriend's affair caused her to do things that sent the tabloids flying off the racks. Now she's facing the sister she hasn't spoken to in eight years, and an ex-fiancé, to whom she owes more than an explanation. While she's not sure she can tell them the truth, she's determined to make things right, even if that means America's Sweetheart waits tables in a small-town diner.

Trouble is, this prodigal return has unraveled more than the sisters realize. When a body is discovered, and a strange woman comes to Bernadette pleading for help, Auburn encounters a decades old mystery that causes Mina to question the very people she's been protecting, and threatens the few people she's close to.
A Trip Back to Auburn
This is book 2 in the Obituary Society, but it works as a stand-alone. I loved the first book, The Obituary Society, so much that I purchased this one the very second I finished the first one.
This is the story of two sisters who couldn't be more different—and yet, they both have a strength that's admirable. They interact with various characters in the town, so we get to see some of the ones we loved from book one.
What did I think?
The plot in this book was a little more complex than the first one, as were some of the characters. That being said, I missed a lot of the characters I met and loved in the first book. I got to see glimpses, but just not enough. I especially missed Juniper, a little girl in book 1 that caught my heart. I wish many of the original characters had been included more and that the actual society was a bigger feature.
Like the first book, there were some paranormal aspects here—specifically a ghost that shows up after his body is found buried under a sidewalk. I love that! It's twisty and weird but it didn't freak me out.
I liked this book just a tad less than the first one—mostly because the themes and the society set up for the series didn't come through in this one. I mean, if it's the Obituary Society, we need to see more of that. But as a stand-alone cozy mystery, it was pretty good. I recommend it and I'm giving it 4 1/4 STARS, which doesn't really exist on this site so it will get the full 4 1/2 stars.
Related Posts