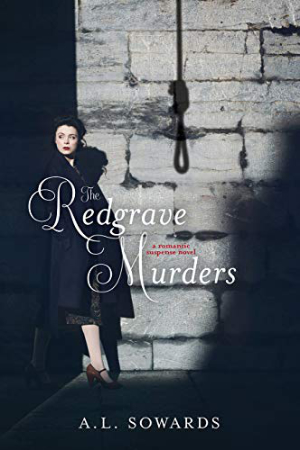 The Redgrave MurdersAuthor:
A.L. Sowards
Genres:
Historical Romance
,
Suspense/Thriller
Format:
eBook
•
Pages:
272
Published:
July 1, 2019
Publisher:
Covenant
Source:
NetGalley


When her father is murdered, Evie must prove her boyfriend innocent and find the real criminal before he kills again.

Loss is inevitable, as Evie Hampton knows all too well. But despite losing her mother to cancer and her older brother to a war, she knows she's one of the lucky ones. After all, she still has her father, a distinguished professor of medieval history. And she has Gary Redhawk, the man she loves despite the emotional scars he carries from the Second World War–and despite her father's opposition to their relationship.

When Evie's car suddenly careens off the road, she chalks it up to poor maintenance or sheer bad luck making another appearance in her life. Little does she know a host of hardships is just beginning–the car was her father's, and the brake lines were deliberately cut. Someone wants them dead–but why? All fingers point to Gary, a man with a troubled past and no solid alibi, but Evie is unwilling to believe he's involved. Determined to uncover the truth, she begins to piece together a startling picture of deception and vice. But as she closes in on the truth, it is clear that someone is determined to silence her–and the next attempt on her life may be a deadly success.
Murder, Mystery, and Romance
Unlike many of the novels by A.L. Sowards, this one is not set on the battlefield. It takes place back at home, at the end of WWII. But the war still haunts the people and events of this book.
I love a good mystery/suspense, and at its heart, that's what this story is—but there's also a strong romance running through it. It deals with so many themes: loss, grief, betrayal, prejudice, interracial relationships. And then there's the mystery of who is killing people Evie's hometown.
What did I think?
This book started a little slow for me. If it starts slow for you, DON'T GIVE UP! Keep going. Within a few chapters I was hooked. I liked the characters, although I felt Evie was a bit naive.
I really liked the twists and turns of the mystery. I thought I knew who it was several times. One of my guesses was correct, but I wasn't sure until the reveal. Love it when that happens!
While it made me sad, I thought Sowards handled the prejudice against the Native Americans very well. It was true to the era and heart-breaking, but also wonderful when it was overcome.
There is no swearing, but some alcohol use. There's just enough kissing to entice romance readers. Moderate violence—it is a murder mystery, after all.
I give it 4 1/2 STARS and recommend it to ages 14+.
Related Posts