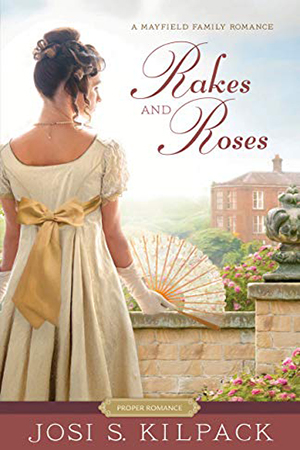 Rakes and RosesSeries:
Mayfield Family #3
Author:
Josi S. Kilpack
Genres:
Historical Romance
Format:
eBook
•
Pages:
320
Published:
May 5, 2020
Publisher:
Shadow Mountain
Source:
NetGalley


Lady Sabrina endured an abusive marriage, a miscarriage, and early widowhood to emerge as a smart, successful, confident woman who found a way to make her mark in a man's world. She has friends and purpose, but cannot hide from the emptiness she feels when the parties are over and the friends have gone home to families she will never have.

Harry Stillman may be charming and handsome, but he's a gambler and a rake who has made a mockery of his privileges. He turns to the mysterious Lord Damion for financial relief from his debts, but still ends up beaten nearly senseless by thugs and left in an alley.

When Lady Sabrina comes upon Harry after the attack, she remembers the kindness Harry once showed to her six years ago and brings him to her estate to heal. Though their relationship begins on rocky footing, it soon mellows into friendship, then trust. But Lady Sabrina needs to keep Harry at a distance, even if he is becoming the kind of man worthy of her heart. After all, she is keeping a secret that, if exposed, could destroy everything she's so carefully built.
Jerk to Hero? A case in Character Development
Josi Kilpack is a wonderful writer and always includes deep insights into character and motivations. I didn't think I'd care for this story as much as the other ones in this series because we've encountered Harry in previous books. He was a jerk. When I started the book, I did not care at all if Harry made a love match—especially with Sabrina because, in my opinion, she was too good for him.
But then Josi's writing led me to slowly come to like him. Harry grew on me. I could see the why behind his bad behavior. And Sabrina absolutely brought out the best in him. Together, they wove a believable tale of romance that begins slow and grows over time into something lasting. [br]
[br]
What did I think?
Romance aside, I loved Sabrina's character. Her early years were difficult and filled with heartbreak, but she grew into a determined woman who who refuses to settle for less than she deserves. She's capable and clever, good and wise, and inspires others to become their best selves. (Kind of like a regency era Oprah.)
This is a great story with twists to keep it interesting. I recommend it to anyone who enjoys regency romance with character depth and growth. I give it
5 STARS.
[br]
[br]
Related Posts