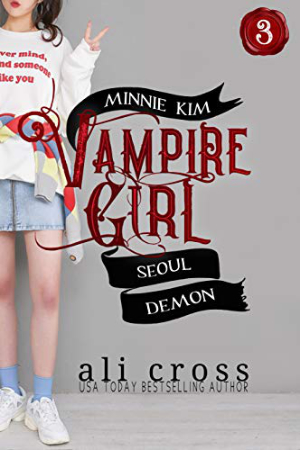 Seoul DemonSeries:
Minnie Kim: Vampire Girl #3
Author:
Ali Cross
Genres:
Young Adult Paranormal/Urban Fantasy
Format:
eBook
•
Pages:
243
Published:
August 23, 2019
Publisher:
Indie
Source:
Author/Publisher


With a wannabe dragon nagging her and a deadly enemy stalking her, Minnie might not even survive her summer in Seoul.

Minnie Kim's leaving Philo for the summer to vacation in Seoul, Korea with her parents. It's the perfect opportunity to prove to them, especially her appa, that she's the same girl she was before she became vampire—just with better stamina and faster reflexes.

Little does she know her dad has a plan of his own. His brother's family is being haunted by the ghosts of their ancestors and he thinks perhaps Minnie, being mostly dead herself, can help put their ancestors to rest.

But of course nothing is ever as easy as it sounds and her restless ancestors are the least of Minnie's problems. There's an imugi greedily hoarding a pearl of power in her family's garden and the pearl has attracted the unwanted attention of all kinds of nasties—including one enemy who would stop at nothing to destroy Minnie and everyone she loves.
Loving this Series
This is book three in the Minnie Kim: Vampire Girl series. I am loving the entire series. It's cute. It's fun. But there's also drama and suspense. There are vampires, after all.
In this book, Minnie and her parents have a tentative truce—making Minnie hope she can win back their love and acceptance of her vampire status. They travel to Korea to meet family and to help them with a ghost problem.
The ghost isn't the only problem Minnie faces. She is sent on a nearly impossible quest by a dragon. She is followed by a freaky vampire. An old enemy who wants to destroy her. And if that isn't enough, Philo (her boyfriend) is far away and she misses him.
What did I think?
This is a light urban fantasy novel, suitable for teens and tweens. It's well-written. The characters are solid and I love Minnie's cousin, Juno. Throughout much of the book, I couldn't tell if the dragon was good or evil. The same with the mysterious vampire following her. And that's good. I like when things aren't always what they seem at first.
Minnie is brave and willing to help others. She's a little obsessive over her boyfriend, but what teenager isn't? She tries her best in all situations, and that's a great character trait.
I like the way Minnie and Juno immediately become friends. He is right there to help Minnie on her quest, and she is glad to help him in his journey to become a teen idol.
The ending sort of broke my heart. I can't say more than that or it will be a big spoiler, but I trust this author. If she made this choice it's because something better is coming up in the next book.
There is some fighting—the bad vampires kill people, but we don't see much of it. We see a fight between Minnie and one of her enemies. It's intense, but not gory. There's a little kissing and obsessing about kissing, but it's not graphic. No swearing in this book. Some parents might not be comfortable with Juno being gay, but it's not at all descriptive. He's coming to terms with it and Minnie is helping him accept himself.
I give this a mild+ rating for content and would be comfortable with teenagers 14 and up reading it. It's a fun story, earning
4 1/2 STARS
from me. Can't wait for the next book.
Related Posts