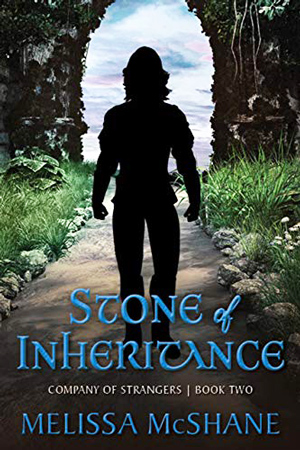 Stone of InheritanceSeries:
Company of Strangers #2
Author:
Melissa McShane
Genres:
Fantasy
Format:
eBook
•
Pages:
304
Published:
February 26, 2019
Publisher:
Night Harbor Publishing
Source:
Author/Publisher


A spot of blackmail…

For months, Sienne and her scrapper team have faced many challenges in their quest to free Alaric's people from the wizard enslaving them. But when a new, unexpected challenge threatens to end their quest, the companions have no choice but to give in to a blackmailer's demand: retrieve an ancient stone artifact from an abandoned village.

Their new adventure takes them north to the edges of the Empty Lands, where monsters roam free and even the land is dangerous. Someone else wants what they're after—someone who will kill to get it. And in a deserted castle past the borders of civilization, the companions encounter evil unlike any they've fought before.
I received this book in exchange for an honest review.
Great Second Book in the Series!
This is book 2 in The Company of Strangers series. We pick up a few months after book 1, with the group of scrappers becoming closer and learning more about each other. In this adventure, they need a particular magical knife to help with the ritual that will free Alaric's people. They are outbid at an auction, then forced by the woman who purchased the knife to go reclaim a powerful artifact that belonged to her family. [br] [br] It's a dangerous journey, filled with betrayal and deception; attacks from an mythical group of beings called "carvers" and others who want the artifact; and a little bit of romance thrown in. Just when they think they've got a clear passage to their goal, they are beset by one challenge after another.
What did I think?
I loved this story—perhaps even more than the first book. The romance between Alaric and Sienne finally gets to first base. The characters are distinct and well-written. I think my favorite is Perrin, the often drunken priest of Averran. [br] [br] The writing drew me in and held me fast, with the descriptions of the lands as they travelled, and the taste and smell of their food. I felt I was right there. [br] [br] There were some political machinations toward the end that I'm not sure I trust—could be a set-up for the next book. Which, by the way, I'll definitely be reading. [br] [br] There is quite a bit of drinking in the story, some mild kissing and intimating of sex (when a guy tries to pick up Sienne at an inn) but it's not graphic. Moderate fantasy violence, blood and death. Some swearing, but not too bad. [br] [br] I give it
4 1/2 STARS
and recommend it to readers, ages 14+, who like fantasy and strong female characters.
Related Posts