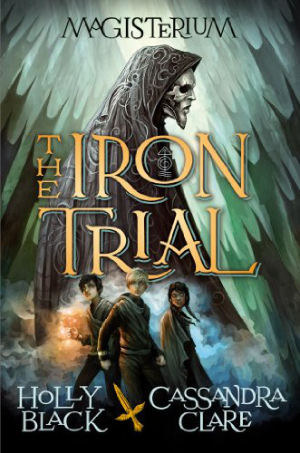 The Iron TrialSeries:
Magisterium #1
Author:
Cassandra Clare
,
Holly Black
Genres:
Middle Grade Fantasy
Format:
eBook
•
Pages:
309
Published:
September 9, 2014
Publisher:
Scholastic Press
Source:
Purchased


Most kids would do anything to pass the Iron Trial.

Not Callum Hunt. He wants to fail.

All his life, Call has been warned by his father to stay away from magic. If he succeeds at the Iron Trial and is admitted into the Magisterium, he is sure it can only mean bad things for him.

So he tries his best to do his worst - and fails at failing.

Now the Magisterium awaits him. It's a place that's both sensational and sinister, with dark ties to his past and a twisty path to his future.

The Iron Trial is just the beginning, for the biggest test is still to come…
Love This Book!
I love Cassandra Clare. I don't now how I missed this series. Book 1 was great. You think the main character is going to be the hero, and then there's a twist and it's amazing! And isn't that cover awesome!!! Can't wait to read the next book in the series.
Some paranormal violence, on the level of Harry Potter. In fact, there are several similarities to HP: it's a year at magic school, there's a bad guy that everyone is afraid to name, but that's about where it ends.
Recommended for tweens and teens who like magic and good vs evil. I give it 4.5 STARS.
Related Posts