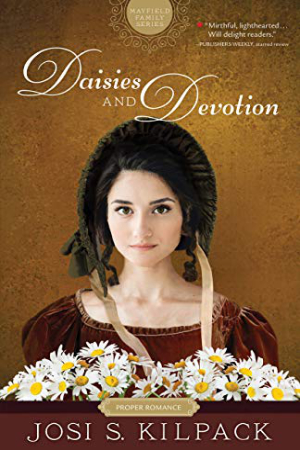 Daisies and DevotionSeries:
Mayfield Family #2
Author:
Josi S. Kilpack
Genres:
Historical Romance
Format:
eBook
•
Pages:
352
Published:
May 14, 2019
Publisher:
Shadow Mountain
Source:
Library


Timothy Mayfield is ready to marry for love, but since his personal finances are thinner than he d like, he knows he ll also need a wife with wealth. After receiving an unexpected inheritance, Timothy s circumstances change, and he is free to pursue his perfect woman one with blonde hair, blue eyes, a light laugh, arched eyebrows, elegant fingers, and a dazzling smile, among nearly twenty other characteristics.

Maryann Morrington doesn t match anything on Timothy s list except for wealth. An heiress in her own right, she is tired of men pursuing her only for her money. But at nearly twenty-two years old, and not a particularly stunning beauty, she can t be as picky as her friend Timothy is.

The two friends end up playing matchmaker for each other. Timothy will find a decent gentleman for Maryann, and Maryann will prove to Timothy that his perfect woman doesn t exist.

Until Miss Shaw comes to London.

Now, with Timothy s heart captivated by the blonde, blue-eyed beauty, Maryann must decide if she should risk her heart and reveal her true feelings for her friend, or if she should settle for someone else. It s an up-and-down game of he loves me, he loves me not, with both hearts and friendships on the line.
Marry for Money or Love?
This is a tough question when you're on the fringes of regency society and you don't really have a lot of money. Sometimes you have to make the hard choice—and sometimes you get both.
The premise of this series is that a wealthy uncle is attempting to set his nieces and nephews up with an inheritance—if they find an appropriate marriage partner and act respectably. Some of them are already respectable but others, not so much. Timothy has always tried to live within society's expectations, so when his uncle offers him enough money that he is free to make a love match he goes about finding his ideal woman. Only to discover he doesn't really know what "ideal" means.
[br]
What did I think?
I really liked the first book in this series, Promises and Primroses, and gave it 5 stars. But I liked this one even better! The characters were so well-written, I could actually picture them in my mind. I loved Maryann, and how she refused to accept anything less than a love match. At times, I wanted to smack Timothy for not seeing what was right in front of him. But they finally figured it out (and no, that's not a spoiler—Kilpack's romances have a happily ever after). Other characters were very good, as well. Kilpack excels at character.
The plot was a little predictable—you know they'll end up together eventually—but the journey from friendship to love was wonderful. If you like regency romance, I highly recommend this and I can't wait for the next cousin's book!
This gets a mild rating—perfectly suitable for teens and adults. I give it a full 5 STARS.
[br]
[br]
Related Posts