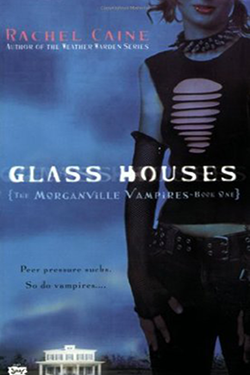 Glass HousesSeries:
Morganville Vampires #1
Author:
Rachel Caine
Genres:
Young Adult Paranormal/Urban Fantasy
Format:
eBook
•
Pages:
239
Published:
2006
Publisher:
Penguin


Welcome to Morganville, Texas, where you would be well advised to avoid being out after dark.

College freshman Claire Danvers has had enough of her nightmarish dorm situation. When Claire heads off-campus, the imposing old house where she finds a room may not be much better. Her new roommates don't show many signs of life, but they'll have Claire's back when the town's deepest secrets come crawling out, hungry for fresh blood.

Will she be able to face the town's terror or will she drown like everyone else?
Don't read this book!
Seriously. Unless you're prepared to buy all five books currently available in the series and lock yourself away, neglect your house, your kids, your husband—and just read, read, read until you're done.
Because it was that good. And if you're thinking you can read just one book at a time, think again. This is the Lays potato chips of vampire stories—and each book ends with a killer cliff-hanger.
But to back up a bit. . . My sister has been bugging me to find her a "book like Twilight" for ages now. And there isn't one. Not really. But I've been reading vampire books off and on for months now and while some of them are good, most of them have way to much swearing, violence and sex. Bluh.
But this series is pretty good. Oh wait. I said that already, didn't I?
Okay, this is how good it was—I started reading Glass Houses (book 1) on Friday after work. Finished at about 11:00 p.m.
Do you want to know how Glass Houses ends? Yes, you do. It ends with one of the main characters two seconds away from having a knife plunged into his heart! Not fair at all. (Unless, of course, you have a Kindle and you can immediately order book two and start reading it in less than a minute!)
Okay. So. Main character is Claire, who is sixteen, extra smart and ready to go off to college. Her parents won't let her go to MIT or Yale because they are too far away and she is too young. They send her to a small college nearby, thinking it will be better for her. What they don't know, but Claire soon discovers, is the town is ruled by vampires. And the college is ruled by a snotty girl named Monica, who pushes Claire down the stairs and threatens to kill her. Claire moves out of the dorm and into a house with two guys and another girl—and the vampire fun begins.
While Twilight is a romance with some suspense and adventure thrown in, the Morganville Vampires series is suspense and adventure with some romance thrown in. I actually like that better. There is some slight swearing. Some violence (it is a vampire story, after all) but it's not too explicit. There's no sex, but there is very descriptive kissing (I just skip a paragraph or two).
Reviews of the other books in the series coming…
Related Posts