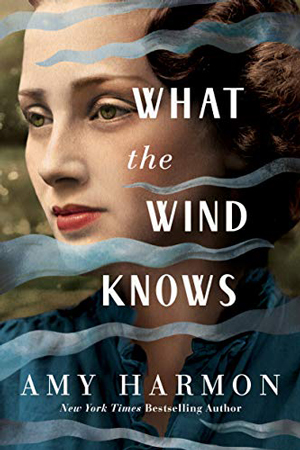 What the Wind KnowsAuthor:
Amy Harmon
Genres:
Historical Romance
Format:
eBook
•
Pages:
411
Published:
March 1, 2019
Publisher:
Lake Union Publishing
Source:
Purchased


In an unforgettable love story, a woman's impossible journey through the ages could change everything…

Anne Gallagher grew up enchanted by her grandfather's stories of Ireland. Heartbroken at his death, she travels to his childhood home to spread his ashes. There, overcome with memories of the man she adored and consumed by a history she never knew, she is pulled into another time.

The Ireland of 1921, teetering on the edge of war, is a dangerous place in which to awaken. But there Anne finds herself, hurt, disoriented, and under the care of Dr. Thomas Smith, guardian to a young boy who is oddly familiar. Mistaken for the boy's long-missing mother, Anne adopts her identity, convinced the woman's disappearance is connected to her own.

As tensions rise, Thomas joins the struggle for Ireland's independence and Anne is drawn into the conflict beside him. Caught between history and her heart, she must decide whether she's willing to let go of the life she knew for a love she never thought she'd find. But in the end, is the choice actually hers to make?
Historical Time Travel Romance
Amy Harmon is a one-click author for me. I don't even bother to read the description on Amazon. She has a new book, I buy it. But when I realized this was a time-travel romance, I was prepared to be disappointed. I've read a few and didn't like them.
But I should have known if anyone could do it well, Amy Harmon could. It was AMAZING! Before I finished the book, I'd probably would have described it as a historical romance, heavy on the historical, that simply uses time travel as a tool. By the time I finished, however, the weaving of past and future was so well done and strategic, that I'm not at all embarrassed to tell people who know me that I love this time travel romance!
What did I think?
The characters of Anne and Thomas were so well-written, they came alive for me—as did many of the minor and supporting characters. Eoin was such a wonderful character too, both in the past and the future. Even the characters taken from history seemed to live and breathe in these pages.
The setting was rich and Lucious, I was right there in the middle of it through the entire story.
The plot included so many historical references—things I didn't know about the Irish revolution. The twists and turns of time travel and how people and events intertwined was amazing. And the ending? Absolutely satisfying.
One negative thing—and it's my failing, not Harmon's—there are a lot of characters. Since most of them have Irish names that I have no idea how to pronounce, it was sometimes difficult to keep track of them—especially connecting the people in the past to those in the future. But setting that aside, I loved every aspect of this book.
There is some mild profanity. The violence of war was throughout the book and often heartbreaking. There was some pretty heavy smooching and references to sexual relations. I thought I might have to skip some paragraphs, but it didn't get graphic.
Due to the violence and the heat of the romance, I'd recommend this book for 18 and older; maybe mature 16 year olds. I give it all 5 STARS.
Related Posts