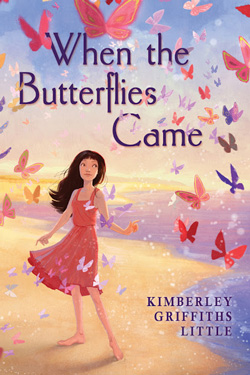 When the Butterflies CameAuthor:
Kimberley Griffiths Little
Genres:
Middle Grade Mystery
Pages:
336
Published:
April 1, 2013
Publisher:
Scholastic Press


Everybody thinks Tara Doucet has the perfect life. But in reality, Tara's life is anything but perfect: Her dear Grammy Claire has just passed away, her mother is depressed and distant, and she and her sister Riley can't seem to agree on anything. But when mysterious and dazzling butterflies begin to follow her around after Grammy Claire's funeral, Tara just knows in her heart that her grandmother has left her one final mystery to solve.

A strange butler shows up to take Tara and Riley to Grammy Claire's house, where Tara finds a stack of keys and detailed letters from Grammy Claire herself. Note by note, Tara learns unexpected truths about her grandmother's life. As the letters grow more ominous and the keys more difficult to decipher, Tara realizes that the secrets she must uncover could lead to mortal danger. And when Tara and Riley are swept away to the beautiful island of Chuuk to hear their grandmother's will, Tara discovers the most shocking truth of all — one that will change her life forever.

From Kimberley Griffiths Little comes a magical, breathtaking mystery full of loss and love, family and faith.
Kimberley Griffiths Little writes Middle Grade fiction. All of her books contain a little bit of magic—and I love them. Including this new one, When the Butterflies Came.
Part mystery, part magic, Butterflies intrigued me from the very first line: "The butterfly comes the day after the funeral." Tara has lost her Grammy, who was very much the stabilizing influence in her life. She grieves for her, while trying to cope with all the changes her grammy's death brings—some of them not very pleasant. All of the main characters were well-written and distinct.
The plot moves a little more slowly than Little's previous books, but that gives the reader time to savor and enjoy the writing style, characterization, and detail of the setting. The writing is beautiful. Like her previous books, The Healing Spell and Circle of Secrets, Little absolutely nails the geography and character accents. Her scenes and descriptions are vivid, making me wish I was there on that island with Tara. The details about the butterflies are amazing. And the dialog, as always, is dead-on accurate.
The mystery is age-appropriate. There's a little violence, but it's not too graphic. And I absolutely love the ending.
I recommend this book for middle grade readers, ages 8 to 12 and give it 4 1/2 stars.
Related Posts