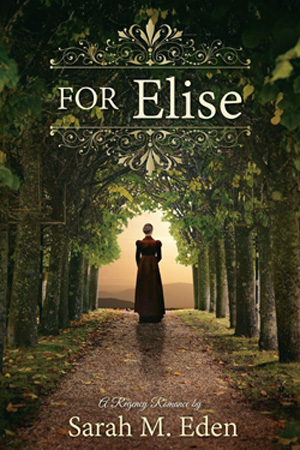 For EliseAuthor:
Sarah M. Eden
Genres:
Historical Romance
Format:
eBook
•
Pages:
272
Published:
September 2, 2014
Publisher:
Covenant


In the sprawling gardens of their neighboring estates, childhood friends Miles and Elise spent countless pleasant days together in the spirited adventures of youth. They were inseparable until Elise vanished without a trace. Miles searched, but Elise could not or would not be found…

After years spent laboring on the family plantation in the West Indies, Miles Linwood is shocked by the unexpected news: he has inherited his uncle's estate and the title of Marquess of Grenton. Miles's return to England is tarnished by only one thing—he is still haunted by Elise's mysterious disappearance.

So when he glimpses a woman with a startling resemblance to his lost friend, he's shaken to the core. This is no mere shadow of the past: it is truly Elise. But his dear friend has changed to the point that he questions whether it is really her, though he knows it is. Accustomed to rescuing Elise from childhood escapades, Miles takes her and those in her care back to his estate, even as he struggles to understand her fear and mistrust. As their friendship and feelings slowly blossom again, the shocking truth of their separated years is revealed, and Miles realizes more than ever that he must protect Elise.

She slipped away once, and he cannot lose her again.
I received this book in exchange for an honest review.
I almost never read romance. I tell you this upfront so that 1) you understand that I have a bias against romances, and 2) you will recognize that if I loved a particular romance, it is something pretty special.
To be clear, less than 10% of what I read by choice could be classified as a romance. But when Sarah M. Eden has a new romance out, I'm first in line to get it! To me, Sarah Eden's writing brings to mind the clever, rich writing of Jane Austen—the only other "romance" writer I can say I truly love.
I became aware of Sarah Eden when her self-published book, Seeking Persephone, was a finalist for the Whitney Awards (awards which recognize exemplary fiction by LDS authors). She was soon snatched up by LDS/regional publisher, Covenant Communications, who has been publishing her titles in record number ever since. Seeking Persephone has remained my favorite of all her books, but this newest book, For Elise, gave it a real challenge.
As in all Sarah Eden stories, these two main characters—Miles and Elise—are distinct, unique, and endearing. I get a strong sense of personality from them. They aren't just paper dolls walking around and swooning over each other. They are clever, endearing, and generally, people of integrity. And Elise has some hidden strengths that are amazing. The secondary and minor characters are also well-written and rounded.
The setting and romance part of the plot are regency standard—lots of miscommunication and hiding of feelings. As a modern reader, sometimes I get frustrated with how resigned the women of this era tend to be, and I would have liked to see Miles be a little more proactive too, but that's 2014 speaking. Eden quickly overcomes those momentary thoughts with her superb writing, and  pulls me away from today and back into the story.
One note to sensitive readers: There are some sad parts. In fact, I'd label them tragic. Life is harsh at times. But I like the way Eden's characters overcome the past and face their trials. I admire their inner strength. I don't want to give anything away because it's part of the mystery in the plot, but I think the tragic portions add depth and interest to the story line.
Overall, I give this 4 1/2 stars—even if you aren't a big fan of regency romance, I think you'll like this one.
Other Stops in the Tour:
Want to read some other opinions? Visit the other blogs participating in this tour.
September 15th: Joy In the Moments   •  Min Reads & Reviews
September 16th:  I Am A Reader   •   I Love to Read & Review Books
September 17th:   Literary Time Out   •   Book Geek Reviews (this is me!)
September 18th:   Bookworm Lisa  •  Fire and Ice
September 19th:  A Book A Day  •  Brooklyn Berry Designs
September 20th:   Rockin' Book Reviews   •   Wishful Endings
And Now for the Giveaway:
Related Posts