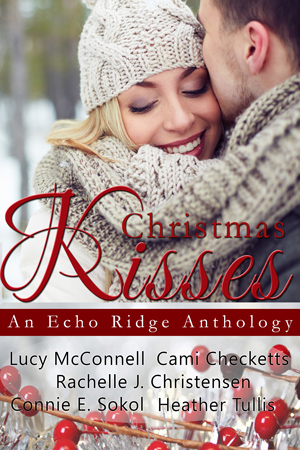 Christmas KissesSeries:
Echo Ridge #1
Author:
Cami Checketts
,
Connie E. Sokol
,
Heather Tullis
,
Lucy McConnell
,
Rachelle J. Christensen
Genres:
Contemporary Romance
Format:
eBook
•
Pages:
557
Published:
November 3, 2015
Publisher:
Peachwood Press
Source:
Author/Publisher


The Candy Counter Heiress by Lucy McConnell

Someday Reese Gates will own The Candy Counter at Kenworth's, but when the manager threatens to bring in a national candy provider, Reese ropes computer guru Andy Edwards into helping her expand the business online. Reese wanted to shake things up, but she wasn't planning on her heart getting caught in the mix. If she can hold it together until after Christmas, then she can reveal her successful online company and her feelings for Andy. Unfortunately for Reese, even the best laid plans can melt like chocolate.

Christmas Makeover by Cami Checketts

Chelsea Jamison has been infatuated with Drew Stirling longer than she's loved playing basketball. Unfortunately, all Drew sees is the kid who kicked his trash in the high school free throw contest. When Drew makes an unexpected visit home to Echo Ridge, their friendship picks up as they scheme to make a teenaged boy's Christmas dreams come true. When Chelsea realizes she's fallen for her best friend, she wonders if there is any hope of a relationship with Drew or if she's stuck in buddy-status for life.

Hope for Christmas by Rachelle J. Christensen

Anika Fletcher hates Christmas—its promises of good tidings and hope for the future are as tinseled as the ornaments on Kenworth's Hope Tree. Despite her feelings, Anika wants to maintain her daughter's faith in the magic of the season. Working with Carlos to restore Kenworth's old fashioned soda fountain, she's inspired by his life of light and joy. Just as her fragile soul begins to feel hope again, an ill-timed act of charity changes everything. Anika isn't sure who she can trust or if hope is worth nurturing.

Soda Fountain Christmas by Connie E. Sokol

Keira Kenworth has one focus this holiday season: save her father's old-time department store from bankruptcy. She is not focused on Tayton Wells, the tall, dark, and genius marketing guru from downtown New York, hired to make it happen. He is as doubtful that her nostalgic connect-the-town ideas will succeed as she is about his numbers-first plan. Will the tough decisions they face drive them back to their separate worlds, or will they lead to the beginning of love?

One Winter Night by Heather Tullis

Jonah thought Echo Ridge would be the perfect place for his art gallery, but the need to sell his grandma's house adds an unexpected complication. It would be easier if his neighbor didn't have all those farm animals, but there's no way Kaya is giving up the animal therapy business she's been struggling to make profitable. When Kaya takes a temp job helping Jonah in the gallery, spending time together may be a recipe for romance, but can they overcome their own hangups to be more than friends?
I received this book in exchange for an honest review.
Shhh!
In my real life, I'm known for not liking romance. And really, I don't love it. At all. But, I have a confession to make.
*looks around to make sure no one's eavesdropping*
I sort of, kinda, maybe really like those Lifetime Christmas Romance movies. So when this blog tour popped up in my review radar, I thought I'd give it a read.
Also, I have friends who like romance. AND it's only 99¢ right now for Amazon Kindle. AND I've read other romances by a few of these authors and they didn't make me want to poke my eyes out with a fork.
We want clean romance!
But the BIGGEST REASON I wanted in on this blog tour was because these authors have banded together to create this anthology for the sole purpose of proving to online re-sellers that there IS a demand for clean and wholesome romances and it deserves a separate category in their listings. That's something I can get behind!
(And I put my money where my mouth is. Even though I received a free copy for review, I just bought a copy as a gift for my mother.)
While I don't read romance a lot, when I do I want to know what I'm getting before I buy. It makes me angry when I'm reading along and loving a book because it's well-written and has an interesting story, and then suddenly we're in the bedroom with all sorts of private stuff going on.
I don't need to know that.
What did I think?
When the description says that these are five clean and wholesome romances—it means there's only kissing in it. No groping. No innuendo. No "we'll close the doors and leave it to your imagination." I liked that.
I also liked that while the characters begin their relationships over the space of several weeks and admit they have strong feelings for each other, they're not in any hurry to rush themselves down the aisle. These are reasonable, clear-thinking adults here. Good for them!
I also liked that this is set in a small town, and all the stories tie into the Kenworth department store in the center of that town. It gives the story continuity. Characters from one story pop up in other stories, but there's not any repeated scenes.
I enjoyed all five of the stories well enough to say that any one of them is worth the 99¢ price as a stand-alone. I think my favorite one was The Candy Counter Heiress by Lucy McConnell, because chocolate! (and the grandma is a hoot).
Tied at a very close second place were Hope for Christmas by Rachelle J. Christensen (that poor Anika just couldn't get a break and it broke my heart) and Soda Fountain Christmas by Connie E. Sokol (when Keira and Tayton first meet, I had to laugh).
Which is not to say I didn't like One Winter Night by Heather Tullis or Christmas Makeover by Cami Checketts. I did. There's just no logic to liking, it's all about the feels.
So, hey—99 cents! For less than one teensy dollar, you will get:
1) a smoochy, cuddly, clean set of romances to make you sigh (but that won't make you blush)
2) a chance to send a message that we want MORE clean romances (nothing makes your voice louder than when you put your money where your mouth is; and best-seller on Amazon screams!)
3) a jump-start on the Christmas feels, because these are all contemporary Christmas romances.
And if that's not enough, there's a huge, ginormous, awesome prize giveaway!
And here's the Giveaway (ends 11/7/15):
(Giveaway sponsored and prizes awarded by the Christmas Kisses authors.)
Related Posts