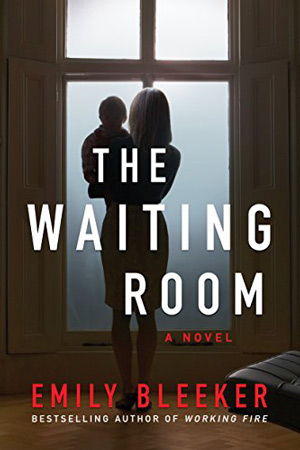 The Waiting RoomAuthor:
Emily Bleeker
Genres:
Suspense/Thriller
Format:
eBook
•
Pages:
268
Published:
August 28, 2018
Publisher:
Lake Union Publishing
Source:
Author/Publisher


Ever since her husband's death collided with the birth of her daughter, postpartum depression has taken hold of Veronica Shelton. She can't sleep, can't work, and can't bear to touch her beautiful baby girl. Her emotional state is whispering lies in Veronica's ear: You're a bad mother. Your baby would be better off without you. But not everything can be reasoned away by Veronica's despair. Can it?

After all, the break-in at her house happened. The disturbing sketches she found in her studio are real. So is the fear for her daughter's safety—especially when Veronica comes home to a cold, silent nursery and a missing baby.

As she turns from victim into primary suspect, Veronica realizes that only she can find her daughter. Authorities aren't helping. They're only watching. Veronica's concerned mother has suddenly vanished from her life. And a new friend seems to be keeping secrets from her too. Now, reality is waiting for Veronica in a dark place—because someone's mind games have only just begun.
I received this book in exchange for an honest review.
I love Emily Bleeker!
I have all of her books. And even though I got a copy of The Waiting Room in return for a review, as soon as I finished reading it I pre-ordered it for my permanent library.
This is one of those twisty-turny psychological suspense type stories that happens inside the head of Veronica Shelton. Her husband is dead, her daughter is missing, and weird stuff keeps happening. I spent a good portion of this book trying to determine if she was sane, some level of crazy, or if her friends or family were gaslighting her.
Love, love, love this type of story!
What did I think?
First, I loved this book. (I might have already said that.) It was completely twisty and weird. Exactly my type of book!
Several times as I was reading, I thought I had it all figured out. But something new would pop up to change my mind—only to have it changed again, then again. Finally gave up trying to figure it out and just enjoyed the ride. I was not disappointed in the final reveal. Although it was one of the possibilities I suspected early on, there was a twist that satisfied.
Emily Bleeker is a master story-teller. Her writing is beautiful. Her characters are fully developed and wonderful in all their quirkiness. She weaves them all together and turns up hidden secrets with such skill that I couldn't stop reading.
All of Bleeker's books have twisty-turny things in them. While Wreckage is still my favorite of her books, The Waiting Room comes in a close second!
It's difficult to classify this book because it's not traditional suspense, but it's not general/literary either—although the writing, as I've said, is exceptional. There is some language and moderate violence, so I don't recommend it to younger teens—maybe mature 16 and up. I highly recommend it to those who liked Girl on the Train or Gone Girl. Similar twistiness, but without the really bad language or sex. I give it a full 5 STARS.
Related Posts