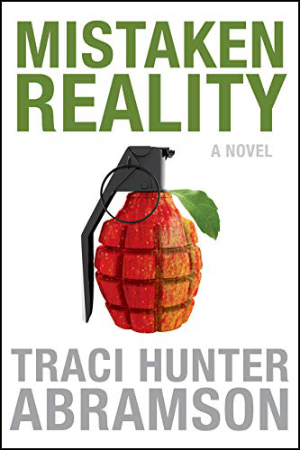 Mistaken RealitySeries:
Saint Squad
Author:
Traci Hunter Abramson
Genres:
Suspense/Thriller
Format:
eBook
•
Pages:
312
Published:
October 1, 2019
Publisher:
Covenant
Source:
NetGalley


Hadley Baker can't believe her boyfriend finally invited her on a fancy hotel dinner date only to break up with her in public. Even more unbelievable is the moment FBI Agent JD Byers finds her crying in the women's restroom and demands she evacuate. Seconds after JD ushers Hadley outside, an explosion shatters the building. Could her life be any more disastrous?

JD didn't anticipate seeing Hadley, the beautiful schoolteacher, again after he saved her from the hotel attack. But soon after her ex-boyfriend became a lead suspect of the hotel bombing, the man turned up dead—and now it seems that Hadley herself is a target. Determined to keep her safe, JD shelters Hadley as they join forces to put together the pieces of the perplexing case. When they discover the horrifying truth behind her ex-boyfriend's nefarious work, Hadley realizes her life is far from the only one being threatened. Countless others are in danger, and she and JD may hold the key to saving them.
Saint Squad/Guardian Crossover
Abramson has two closely related series. First, the Saint Squad, about a Navy SEAL team where most of the members belong to the Church of Jesus Christ of Latter-day Saints (Mormon). Each book in this series has both a suspenseful military mission and a developing romance.
The Guardian series is about a top-secret program that works in the shadows to protect members of the most elite government organizations. Again, this series has both suspenseful missions and budding romance.
In this book, we mostly see the Saint Squad guys, tracking down some human traffickers, but the Guardians also help out on the mission.
[br]
What did I think?
There are a lot of people and relationships to keep track of in these two series, and sometimes it got a little confusing trying to remember who was in which other books, and married to whom, and how they all interrelate. However, that is not key to enjoying the story—and for me, the romance was secondary.
I liked the plot. There were several intense situations with bombs going off, tracking down the bad guys, and rescuing women and children. I had to keep reading to see how it worked out.
There wasn't a lot of religious content and absolutely no preaching. No swearing or sex. Except for military grade violence and the horror of human trafficking, it's a clean and mild book.
I give this a mild+ rating for violence and would be comfortable recommending it to teens. I like this series, and give this book 4.5 STARS.
[br]
[br]
Related Posts