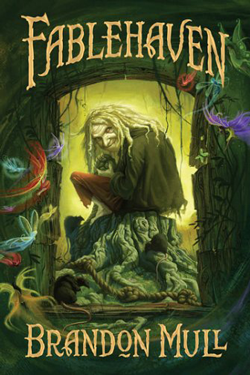 FablehavenSeries:
Fablehaven #1
Author:
Brandon Mull
Genres:
Middle Grade Fantasy
Pages:
351
Published:
June 14, 2006
Publisher:
Shadow Mountain


For centuries, mystical creatures of all description were gathered to a hidden refuge called Fablehaven to prevent their extinction. The sanctuary survives today as one of the last strongholds of true magic in a cynical world.  Enchanting?  Absolutely! Exciting? You bet.  Safe?  Well, actually, quite the opposite…

Kendra and her brother Seth have no idea that their grandfather is the current caretaker of Fablehaven.  Inside the gated woods, ancient laws give relative order among greedy trolls, mischevious satyrs, plotting witches, spiteful imps, and jealous fairies.  However, when the rules get broken, an arcane evil is unleashed, forcing Kendra and Seth to face the greatest challenge of their lives.  To save her family, Fablehaven, and perhaps the world, Kendra must find the courage to do what she fears most.
I loved this book!
This is a debut book and there are a few little glitches. It starts a little slow and sometimes gets a little silly. But really, I thought it was a fun and clever read. I loved the idea of a preserve to protect magical creatures—and the fact that Kendra and Seth have visited before and had no clue about the secret life of their grandparents. I loved the set-up, the discovery, the magic. The fairies were great and the satyrs were hysterical!
I liked that there were consequences to Seth's rule breaking, and also that he had to figure out how to fix his mistakes. He did get away with a lot, but I was okay with that.
This will be a book I'll keep in my permanent library— and I can't wait to see what this author has in store next. A great read for ages 10 and up!
Related Posts