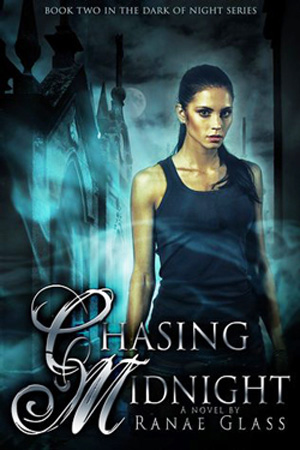 Chasing MidnightSeries:
The Dark of Night #2
Author:
Ranae Glass
Genres:
Paranormal/Urban Fantasy
Format:
eBook
•
Pages:
259
Published:
April 21, 2015
Publisher:
Crimson Tree
Source:
Purchased


This book may not be suitable for all readers.
Isabel Stone's life is far from normal. She's a girl with problems—vampire problems to be specific and, now, she also has one ticked-off specter on her hands.

Approached by a childhood friend and medium, Isabel agrees to look into the murder of a local girl, only to wind up inhabited by the solitary witness—a centuries-old ghost who is all too happy to piggyback along in Isabel's body, and she's not leaving until the culprit is behind bars.

With the help of her partner, Shane, and her crazy family, Isabel struggles to get to the truth, unmask a killer, and deal with her growing feelings for not one, but two, of the sexy, undead men vying for her heart. Just when things are finally falling into place, a huge revelation takes her out of the frying pan… and straight into the fire.
I received this book in exchange for an honest review.
Isabel Stone as back at it—trying to earn a living as a private detective in a crazy world of vampires, werewolves, and now ghosts! This second book in the series did not disappoint—well, except for the fact that the next book doesn't come out until 2016.
The dialog and characterizations were wonderful. As with book 1, Chasing Daylight, I loved the sassy voice of the main character, Isabel. She had me laughing so many times. This woman is tough as nails, but has a soft and tender side too—as we get to see very clearly when she is possessed by a ghost and forced to confront her lingering feelings for Shane, ex-fiancé turned vampire.
I liked Shane better in this book. When he finally steps up, he's quite charming. Xavier is still a walking contradiction—I can't tell if he's good or bad. I love the ghost. Usually ghosts totally creep me out but this one was just scary enough to keep me on my toes, but not enough to give me nightmares.
Again, there is typical vampire violence and also some of the more human kind. The romance moves into PG-13 areas, but it's behind closed doors. The relationship is implied, not explicit.
Again, the biggest negative I have is that there is more swearing than I feel comfortable with, but there's no f-word this time. That's good.
I recommend this book for college age and adults who like urban fantasy. If you liked the Mercy Thompson series by Patricia Briggs (which I do), the Morganville Vampires series by Rachel Caine (which is YA), or The Hollows/Rachel Morgan series by Kim Harrison (which I decided was too sexy for me after the first few books), you'll probably like this series as well.
Related Posts