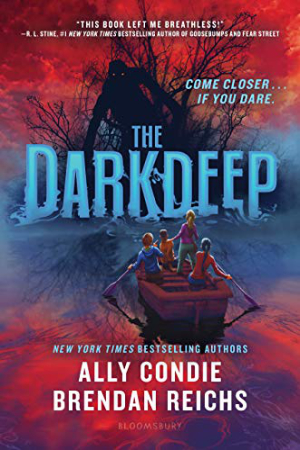 The DarkdeepSeries:
Darkdeep #1
Author:
Ally Condie
,
Brendan Reichs
Genres:
Middle Grade Fantasy
Format:
eBook
•
Pages:
260
Published:
October 2, 2018
Publisher:
Bloomsbury USA Childrens
Source:
Author/Publisher


Everyone in Timbers knows Still Cove is off-limits, with its creepy Beast sightings and equally terrifying legends. But when a bullying incident sends twelve-year-old Nico Holland over a cliff and into Still Cove's icy waters, friends Tyler and Emma--and even Opal Walsh, who usually runs with the popular kids--rush to his rescue . . . and discover a mysterious island hiding in the murky, swirling mists below.

Though the island appears uninhabited, the kids can't shake a feeling that something about it is definitely not right. Their suspicions grow when they stumble upon an abandoned houseboat filled with all sorts of curiosities: odd-looking weapons, unnerving portraits, maps to unknown places, and a glass jar containing something completely unidentifiable. And in its lowest depths churns a dark, deep secret.

As the group delves deeper into this mysterious new clubhouse, their lives begin to intertwine in weird and dangerous ways. For something ancient has awakened… and it can detect not only their wishes and dreams, but also their darkest, most terrible imaginings. Do they have what it takes to face the shadowy secrets lurking within their own hearts?
Quick Review
Sometimes being bullied can push you into doing things you'd never do on your own. And sometimes bullies can become unlikely allies. That's just one of the themes of this book.
The kids are forced to go to a creepy, off-limits island to try to save their friend. While there, they discover a land of magic and ghosts.
This started out creepy, then became funny, then creepy again. The ending was awesome! Well-written, great characters, spooky plot line. Glad this will have a sequel. Perfect for mature middle grade and teens! I give it 4.5 STARS.[br]
Related Posts