Veins of GoldAuthor:
Charlie N. Holmberg
Genres:
Fantasy
,
Speculative Romance
Format:
eBook
•
Pages:
316
Published:
July 17, 2018
Publisher:
Mirror Press
Source:
Author/Publisher


Desperate to save her siblings from poverty, a young woman discovers magic fueled by gold… and a love for the man who wields it.

Abandoned by their father for the gold rush, Gentry and her siblings labor to survive alone in the inhospitable west. When bizarre natural disasters begin wreaking havoc on the land, Gentry discovers a world of magic. Desperate for help, she accepts aid from a mysterious stranger.

Winn not only sees the magic, but controls its hunger by feeding it gold—the very thing Gentry's father left to acquire. But the earth's unrest only grows worse, and Gentry's fear leads her to a terrible choice: marry a wealthy man she does not love, or trust in Winn's unpredictable power to save her family.
I received this book in exchange for an honest review.
A Mixed-Genre Novel
Veins of Gold doesn't fit neatly into one unique genre. It's set in Utah during the Gold Rush Era (1848–1855). The details are clear enough that it could be labeled a Historical novel, or even an alternate history. As such, the reader gets a great look into what that time and place was like—the mountains, the desert, small Utah town, and even a peek at Mormon culture (but there is no preaching in this book).
It also contains magic—a mix of earth and Native American magic—putting it in the Speculative category. We follow Gentry as she becomes aware of and then learns more about this magic, eventually trying to wield it herself.
But I think that first and fore-most, this is a romance and all the obstacles, social and magical, that stand in the way of true love.
To the ears of Gentry's father, gold cried louder than his children did.
When Gentry's father leaves to search for gold in California, Gentry must step up and care for her siblings. She does her best, but how can three people live with one horse, a garden, and just a few dollars to sustain them? The adventure begins when Gentry and her sister travel to American Fork to sell her mother's china. Along the way they encounter a natural disaster, and Gentry meets Winn—a magical man to whom she is immediately drawn.
The rest of the story is one stumbling block and heartbreak after another as Gentry learns more about Winn. When the garden fails, the money runs out, her home is nearly destroyed, and her father's promised money is nowhere to be found, Gentry is tempted to accept a proposal from a farmer nearby.
Torn between her heart and her obligation to her siblings, Gentry finds herself swept up in magic of her own.
Gentry was the mother and the father now. She had to be the post that supported the fence. Do. Not. Cry.
What did I think?
I've read all of Charlie N. Holmberg's books. She is a captivating writer with a wonderful imagination. While Veins of Gold is not my favorite of her books, it's still a very good read.
The bad news first: The one thing that bothered me about this story is that there wasn't quite enough of it. I would have loved to see more depth in all of the areas—more magic and more explanation of what and why; more romance and depth to the relationship between Gentry and Winn; the family issues and character interactions were good, but I just wanted more of them.
That said, however, I did enjoy this story. It's difficult for me to geek out about all the things I loved, without giving away spoilers. A good portion of the delight I found in this book came in watching things slowly unfold—and I don't want to ruin that for anyone.
The writing is stellar. Holmberg weaves setting, dialog, and action seamlessly. I really felt I was part of this story. I loved the play on words in the title. (That shows up once we get into the story a bit.)
The characters of Gentry and her siblings were well-done. I also loved the "adopted" Mormon family and how they helped Gentry and her siblings. (There is no preaching in this book.) Winn was a little confusing, and I'd like to have seen more of him to understand him better.
I thought the magic system was very imaginative—the power of the earth, gold, and the magic in animals. It was believable to me that this world of magic could have once existed, and I felt sad that it doesn't anymore.
I think the thing I loved most was Gentry's journey to understand the earth magic. I loved Winn's seagulls and his method of travel. And I love the way Gentry was able to bring resolution to Winn's childhood trauma.
There are a couple of mild swear words. There is the violence of natural disaster, the effects of poverty, and a few punches, but it's not bad. The romance is very clean.
I recommend Veins of Gold to readers, age 14+. Also to readers who like mixed-genres, or are already Charlie N. Holmberg fans. I give it 4.5 STARS.

Win Veins of Gold! Ends 7/20/18
Prize provided by Mirror Press.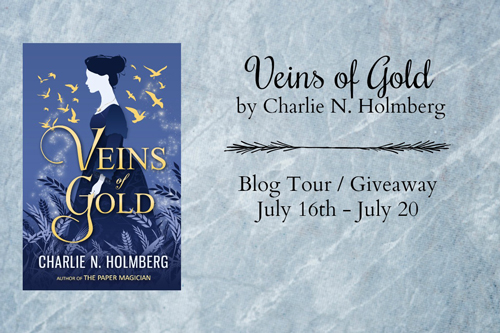 Related Posts