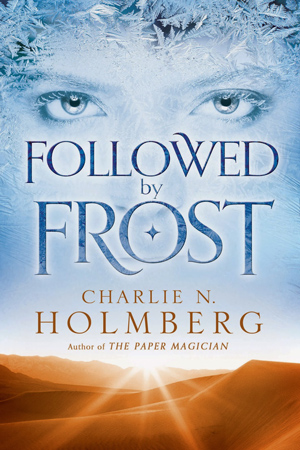 Followed by FrostAuthor:
Charlie N. Holmberg
Genres:
Young Adult Fantasy
Format:
eBook
•
Pages:
254
Published:
September 22, 2015
Publisher:
47North
Source:
NetGalley

|


Seventeen-year-old Smitha's wealth, status, and beauty make her the envy of her town—until she rejects a strange man's marriage proposal and disastrous consequences follow. Smitha becomes cursed, and frost begins to encompass everything she touches.

Banished to the hills, hunted by villagers, and chilled to the very core of her soul, she finds companionship with Death, who longs to coax her into his isolated world. But Smitha's desire for life proves stronger than despair, and a newfound purpose gives her hope.

Will regrets over the past and an unexpected desire for a man she cannot touch be enough to warm Smitha's heart, or will Death forever still it?
I received this book in exchange for an honest review.
I totally loved this book! It may very well make my Top 10 of 2015 list.
I don't know if this was based on a fairytale−if it was, it's not one I'm familiar with. But the rhythm and cadence of the story is very reminiscent of some of my favorite classic fairy tales. Although the concept of a girl whose touch freezes those who get too close makes Disney's Frozen immediately leap to mind, this is not at all the same story. It reminded me a bit of Beauty and the Beast in reverse, with some aspects of Hans Christian Anderson's Snow Queen and the Norwegian tale of East of the Sun and West of the Moon thrown in. But Holmberg has used just a few elements from each of those stories to create something that was new to me and completely captivating.
This is the tale of a beautiful but very vain girl (we'd call her narcissistic, today), who has the unpleasant experience of being cursed when she cruelly rejects the wrong guy. At first, you really feel like she deserves it. But as time goes by and you (and she) realizes all the implications of the curse, you begin to feel some pity for her. That quickly changed to admiration for her determination to survive.
At one point, I actually had a lump in my throat. I don't want to give anything away, but I was swept away in the unfairness of her punishment and her subsequent heartbreak. And yet, she soldiered on.
The plot was interesting, and while I knew from the moment Smitha was cursed how it would most likely end, the journey was absolutely worth it. The pace of the story is slower than most modern YA literature, but the descriptive language puts you right there in the story with Smitha. I could see the wonders of the desert city, smell and taste the foreign spices, and most of all, feel the freezing wind and snow that constantly surrounded her.
The writing was beautiful, lyrical−the type of writing that weaves a spell around you and traps you securely in the imagery. The narrative voice is similar to Sun and Moon, Ice and Snow by Jessica Day George and Book of a Thousand Days by Shannon Hale, both of which I loved dearly.
Followed by Frost intrigued me with the very first sentence of the Prologue, and then that next paragraph soundly hooked me:
I have known cold.

I have known the cold that freezes to the bones, to the spirit itself. The cold that stills the heart and crystallizes the blood. The kind of cold that even fire fears, that can turn a woman to glass.
Here are a few other examples of the beauty of this book:
Homes both large and small stippled the scooping valley like scales on a fish: white, bronze, beige and flax. … My own home in Euwan would have stood out like a fish in a tree in this city…

***

My cold heart splintered more with each passing day, until I could feel its shattered pieces rattling down my rib cage and settling somewhere in the hungry pit of my stomach.

***

It was the sort of music that could coax life into even a slow-beating heart like mine, the kind you could taste just by breathing.
Beautiful! For me, it added to the richness of the story without slowing it down.
Followed by Frost is marketed as a Young Adult Fantasy and I would have no problem letting a teen read it, although advanced readers will better appreciate the writing style. There is one swear word. Violence is negligible−Smitha is chased by hunters with dogs, sees corpses in a mountain pass (eww, but not descriptive), and a few punches. Steamy kisses when Death tries to seduce her and a scene where the man she loves is not wearing a shirt. Overall, it's mild and I'd feel fine letting 14+ read it. In my opinion, this is also a strong crossover book that will appeal to adult readers, as well.
I give it a solid 5 stars! It doesn't come out until September 22nd, but it's on pre-order at Amazon. Available in print, e-book, and audio.
Related Posts