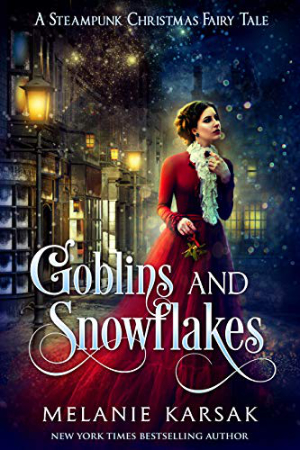 Goblins and SnowflakesGenres:
Fantasy
Format:
eBook
•
Pages:
111
Published:
November 13, 2018
Publisher:
Clockpunk Press
Source:
Purchased


Never bargain with goblin men.
Scarlette Rossetti thought her stay at Strawberry Hill Castle during the Christmas holiday would pass by uneventfully. She couldn't have been more wrong. Enticed by the delights of the nearby village of Twickenham, Scarlette's life would change in unimaginable ways.

She never expected to be drawn magnetically to The Two Sisters Doll Shop and Toy Emporium.

Scarlette didn't guess that tinkering clockwork gnomes could have supernatural consequences.

And she didn't know that one should never, ever, bargain with goblin men.

But during the Christmas season, magic is always brewing.
Fun Steampunk Fairy Tale
Melanie Karsak is hit or miss for me. She's mostly hit, but sometimes I find a book that I don't care for at all. This was not that. I really liked this one. It's sort of a steampunk fairy tale, with some loose ties to Red Riding Hood and The Shoemaker and the Elves, but with it's own twists. And it's also a love story.
Very good. It also introduces us to the Red Cape Society which shows up in some of her other books.
Mild+ rating, for mild kissing, mild violence or threat level, minimal swearing (like 1 or 2). Recommended to readers who like light steampunk and fairy tale retellings.
4 STARS
.
Related Posts