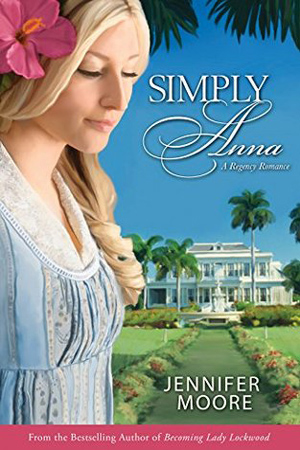 Simply AnnaAuthor:
Jennifer Moore
Genres:
Historical Romance
Pages:
224
Published:
September 5, 2015
Publisher:
Covenant
Source:
NetGalley


Suffering from a cruel heartbreak, Lord Philip Hamilton has been driven to seek refuge from the painful memories haunting London, and his father's Jamaican sugar cane plantation provides just the escape he needs. Philip finds solace in his hard work and takes comfort in the fact that his distance from society ensures that his heart will be protected from future entanglements.

Protected, that is, until the unexpected appearance of a mysterious woman with no memory of her past. The only clue to her identity is a necklace inscribed with a name: Anna. In a matter of weeks, this gentle, intelligent, and impossibly beautiful stranger turns Philip's world upside down.

But as the bond between the pair grows, the threat of Philip losing his heart once more is only the beginning of the dangers that await. Island renegades and a ruthless band of pirates clash in a swashbuckling battle, and it soon becomes clear that these villains may be the key to unlocking Anna's past…
I received this book in exchange for an honest review.
Jennifer Moore is fast becoming one of my favorite regency romance authors—right up there with Sarah M. Eden and Jane Austen. I loved her first two books, Becoming Lady Lockwood  and Lady Emma's Campaign. She has a few others that are still on my to-be-read list.
As with the other two books I've read, Moore continues to write compelling and realistic characters for her time period, setting them in lush landscapes that add to the story without slowing it down.
The main characters from those first two books act as bookend characters for this one, showing up only in the prologue and epilogue. Their presence gives Anna a reason for sailing to Jamaica—although due to a tragic accident, Anna can't remember them.
Despite her amnesia, Anna is such a strong character. I loved her personality, her strength and determination, her intelligence and kindness. Lord Philip is funny and kind, generous to his slaves, and treats Anna as an equal from the start. It is his behavior that really shines the light on the deplorable situations that develop in societies of caste and privilege.
Even the minor characters were interesting, and still believable when running true to type. The spoiled heiress, her creepy father, the evil overseer, the pirates—all stereotypes, and yet still fascinating.
But the part I liked best and that made this book rise above typical regency romances was the way Moore handled the issue of slavery. I loved Betty, Malachi, and Ezekial. Using their story as counterpoint, she deftly wove in the reality of the cruelty and violence against the slaves, while highlighting their strength and courage. It added much richness and depth to the story.
And then she wraps it all up with a sweet and wonderful happily-ever-after between Anna and Lord Philip. (This doesn't really give anything away, because you know when they first meet how it will end.)
4 1/2 stars; recommended to anyone who likes non-traditional regency or those who just like a good solid story.
[bctt tweet="Island renegades & ruthless pirates may be the key to unlocking Anna's past. SIMPLY ANNA by Jennifer Moore. 4 1/2 stars"]
Related Posts