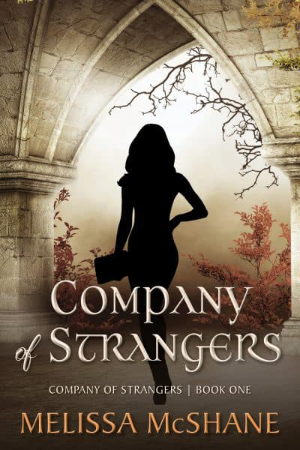 Company of Strangers Series:
Company of Strangers #1
Author:
Melissa McShane
Genres:
Fantasy
Pages:
331
Published:
December 11, 2018
Publisher:
Night Harbor Publishing
Source:
Author/Publisher


The wizard Sienne hopes to make a name for herself as a scrapper—someone who scours the ruins of the Empty Lands for treasure and lost magical artifacts. But first she must find someone willing to take a chance on a desperate beginner.

When Sienne finally catches a break, she becomes part of a ragtag group of adventurers—a desperate scrapper named Dianthe, her wizard-hating partner Alaric, the drunk priest Perrin, and a young fighter named Kalanath.

But finding the treasure proves only the beginning. They must learn to work together as a team. Their very survival may depend on it.
I received this book in exchange for an honest review.
A New Fantasy Series!
One of my favorite authors, Melissa McShane, has started a new fantasy series. What I like about all of her books is that there is a strong female protagonist. Although this book follows the adventures of an unlikely crew of characters, we definitely see things from Sienne's perspective.
As a fledgling wizard who has left her nobility status behind to become a scrapper, Sienne joins a four others in an exquisitely written fantasy quest adventure.
What did I think?
I love Melissa McShane's writing style. It's rich and detailed, and the dialog is snappy and sounds true to the characters. Some might call this epic/high fantasy, but it moves at a faster pace. There's definitely a strong action/adventure vibe. It reminds a little of those DnD-style books, but the action doesn't feel contrived.
The main characters are unique and likable. The magic is fascinating. The adventure is exciting. And the secrets… well, there are plenty of secrets in this band of treasure hunters.
I don't love the cover, but just look past that. The story is great! I look forward to reading more of this series and these characters.
There's some profanity, but not too bad. Some crude but funny humor. Lots of alcohol, as is often found in fantasy novels. And there's some fantasy violence, but it's not explicit. I give this book 4 1/2 STARS and recommend it to readers 14 & up.
Related Posts