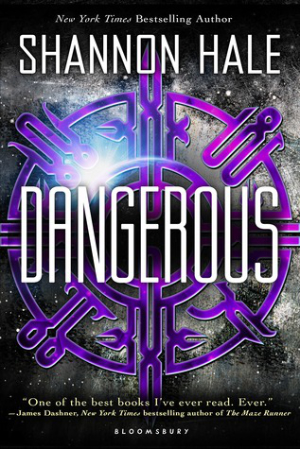 DangerousAuthor:
Shannon Hale
Genres:
Young Adult SciFi/Futuristic
Format:
eBook
•
Pages:
417
Published:
March 4, 2014
Publisher:
Bloomsbury USA Childrens
Source:
Purchased


When Maisie Danger Brown nabbed a spot at a NASA-like summer boot camp, she never expected to uncover a conspiracy that would change her life forever.

And she definitely didn't plan to fall in love.

But now there's no going back—Maisie's the only thing standing between the Earth and annihilation. She must become the hero the world needs. The only problem is: how does a regular girl from Salt Lake City do that, exactly? It's not as though there's a handbook for this sort of thing. It's up to Maisie to come up with a plan--and find the courage to carry it out-before she loses her heart… and her life.
Awesome Super Heroes!
I read this back in 2015 but didn't post a review. Not sure why because I liked it. But I recently re-read it and I'm remedying that oversight.
I still love this story. It's starts like a superhero origin story, then morphs into Sci Fi. I won't say more about that because I don't want to have spoilers. The five teens that being the story are interesting, diverse, and believable. Great character arcs, especially for Maisie and Wilder. I also liked that Maisie's parents were part of the story, and they were solid characters.
The plot was fantastic! The journey to figure out why these kids have powers, who the power behind it is, what it means for their future and that of the planet… so, so good! It does get pretty violent at times, and therefore gets a "Moderate" rating, but I think most teens who are interested in super heroes can handle it fine. It's very sad at times.
There's also some pretty passionate kissing between teens, and thoughts about sex, but it doesn't happen. For that reason, parents may want to read it first.
Over all, I loved it. I would have allowed my teens to read it, but we would talk about it afterward. I give it
4.5 STARS
.
Related Posts