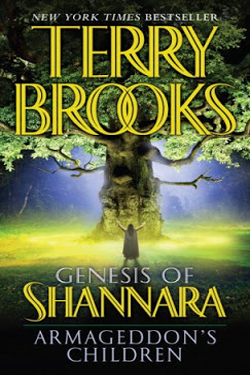 Armageddon's ChildrenSeries:
The Genesis of Shannara #1
Author:
Terry Brooks
Genres:
Fantasy
Pages:
384
Published:
2006
Publisher:
Del Rey


Logan Tom is doomed to remember the past and determined to rescue the future.

Far behind him lies a boyhood cut violently short by his family's slaughter, when the forces of madness and hate swept our world after decadent excesses led to civilization's downfall.

Somewhere ahead of him rests the only chance to beat back the minions of evil that are systematically killing and enslaving the last remnants of humanity.

Navigating the scarred and poisoned landscape that once was America and guided by a powerful talisman, Logan has sworn an oath to seek out a remarkable being born of magic, possessed of untold abilities, and destined to lead the final fight against darkness.
I love Terry Brooks. I know lots of people love the Shannara books, but not so much the Word and the Void series. I love them both. This series, Genesis of Shannara, connects the two.
Armageddon's Children begins more than 100 years after Nest Freemark (Word and the Void series) lived and died. We pick up with Logan Tom, a Knight of the Word, as he travels across the country looking for the gypsy morph who was Nest's son. We meet Angel Perez, another Knight of the Word, who has been charged with saving children from various cities that are falling to the demons. We're also introduced to the Elves and the Ellcrys, which figures prominently in the Shannara books. Another story line centers around Hawk and his group of street children as they try to survive on their own in the deserted city of Seattle. This is the most compelling story line in the book, as these children battle demons and Freaks for survival.
I love the way Brooks gets us involved in the characters, how he reveals their past through a series of flashbacks. Most of the time, I don't like a lot of flashbacks, but these work. There is no huge surprise when Brooks finally links the characters and story lines together at the end of the book, but it does leave you wondering what is going to happen next in the series.
The Shannara books are generally considered YA, at least, The Sword of Shannara is. The Word and the Void series is more adult. This series has aspects that appeal to both teens and adults. There is violence. There are fake swear words. The demons are pretty evil and creepy, so I don't recommend this to readers who have nightmares easily. But if you're a Brooks fan, I don't think you'll be disappointed—until you finish it and realize that while book two, The Elves of Cintra, is available now (in hard back), book three is not due until August 2008.
I give this book 4.5 out of 5.
Related Posts