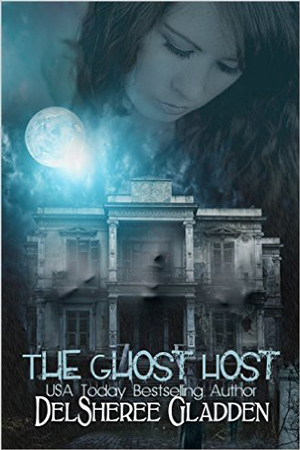 The Ghost HostSeries:
Ghost Host #1
Author:
DelSheree Gladden
Genres:
Paranormal/Urban Fantasy
Pages:
244
Published:
October 6, 2015
Publisher:
Indie
Source:
Book Tour


This book may not be suitable for all readers.
Everyone thinks Echo Simmons is crazy, but being The Ghost Host isn't just a YouTube hoax like people think. It's the only way to control the ghosts haunting her…at least until the FBI shows up asking questions.

The first eighteen years of Echo Simmons' life have been less than ideal. On more than one occasion her parents have considered committing her. They don't believe she sees ghosts or that they harass her on a daily basis. So when a rogue ghost begins tormenting her, they're the last people she's going to tell. Her best friends Holden and Zara are doing their best to help, but ghost attacks are only the beginning of Echo's problems.

Handling the ghosts by giving them a voice on YouTube through her webshow has been her saving grace—even if her parents think it's all a hoax—but that gets a little complicated when the ghost of Madeline Crew reveals a little too much about her previous life and the FBI shows up at her door wanting to know how she gained access to long-buried government secrets.

It just keeps getting worse from there. Madeline's message to her great grandson sparks a strange connection between Echo and Malachi, which leads to Georgia, secrets, mistakes, love, lies, and life changing revelations.
I received this book in exchange for an honest review.
I don't usually enjoy ghost stories. They freak me out. But something about the synopsis of The Ghost Host by DelSheree Gladden intrigued me. I've never read anything by her before, so I was willing to give it a try.
Zara and Holden have both known me since kindergarten, before things got bad, but not before the ghosts. The ghost have always been there. Even now, there's at least six of them standing around the table, hoping I'll acknowledge them. I don't.
The Ghost Host started out pretty strong for me. I became invested in Echo and Malachi right off and I really wanted to know what happened to them. There were hints and clues woven through that let me know something weird and traumatizing had happened in both their pasts, and I was NOT going to stop reading until I found out what it was!
Dropping my head into my hands, I wonder for the millionth time what I've gotten myself into. A deranged ghost is haunting my girlfriend. Facing him might break her. Will I be able to the pick up the pieces and put her back together if it does?
I also loved the secondary characters: Echo's friends, Holden and Zara, and Malachi's bestie, Kyran. Even the FBI agent, siblings, parents, and others were well-written and interesting. The only characterization issue I had was Malachi is from Georgia. I'm from the south and his accent seemed a little too forced and stereotypical to me. I'm not saying people in Georgia don't talk like that, but it read awkwardly at times.
I liked the pacing and the plot turns and twists. I loved it when we discovered the secret behind the stalker ghost, and the… oh, wait. No spoilers. But all the little twisty things were really, really good.
As for the ghost stuff, it was moderate creepiness but not enough to give me nightmares. However, I chose to only read it between about 3:00 and 6:00 p.m. because even though it didn't scare me too much, I was concerned that at any moment it might!
So with all this good stuff, why does this book only get 3 1/2 stars from me?
First, the sex and the language. This is New Adult. Echo is 18, Malachi a few years older. For many readers, it's fine to have sex at that age but I don't like it. I will tolerate it if they go in the bedroom and close the door, but we were in there with them. It wasn't super racy, but it was past my comfort zone. Realistic? Maybe. But I didn't think it was integral to the story.
The language (mostly h—, d—, sh—) wasn't a huge factor for me. It was nothing compared to some YA and NA books. But still. Didn't like it.
There was also what I call "the Twilight factor" — the "if it's dangerous but turns out okay in the book, then maybe it will turn out okay for me, too" thought processing of teens. Although labelled New Adult, a lot of teens may want to read it because the protagonist is 18 and a Senior in high school. She's cute. She's smart. She's cool. And yet, she moves across the country to be with a guy she only knows online. WHAT?!?! Yes, supposedly there are reasons for her to trust him and it turns out okay. But in real life? You'd have to be nuts to do that. I always worry about teens thinking they will have a storybook ending too. Not likely.
Last, I read the eBook ARC. An ARC is an Advance Reading Copy, not the final completely proofed version of the book. And that is why I almost never agree to review an ARC. Publishers and authors always ask reviewers to ignore any little errors, assuring us that all mistakes will be corrected before publishing. But I've been burned in the past giving a good review based on that assumption, only to find nothing was corrected—so my policy is to put a disclaimer in any review of an ARC that has more than a handful of typos.
This ARC had way more issues than I usually find in the ARCs I agree to read. There were missing words, wrong words, misplaced words and the formatting was bad (noticeable gaps between the quotes and the first word, a few paragraphs that ran together). I tagged something that pulled me out of the story on almost every other page. Hopefully those WILL be corrected as promised, but just a heads up. If they aren't, you can't say I didn't warn you about it.
But let me restate that liked the plot and the characters A LOT. They were strong enough that I kept reading even though the ARC was a mess. Will I read the next one in the series? Um, probably. I'm just too dang curious about what happens next!
I give The Ghost Host 3 1/2 stars, but I don't recommend it to teen readers.
Click to read more reviews from other book bloggers participating in this blog tour.
Giveaway (ends 10/29/15)
Open only to those who can legally enter, receive and use an Amazon.com Gift Code or Paypal Cash. Winning Entry will be verified prior to prize being awarded. No purchase necessary. You must be 18 or older to enter or have your parent enter for you. The winner will be chosen by rafflecopter and announced here as well as emailed and will have 48 hours to respond or a new winner will be chosen. This giveaway is in no way associated with Facebook, Twitter, Rafflecopter or any other entity unless otherwise specified. The number of eligible entries received determines the odds of winning. Giveaway was organized by Kathy from I Am A Reader and sponsored by the author. VOID WHERE PROHIBITED BY LAW.
Related Posts