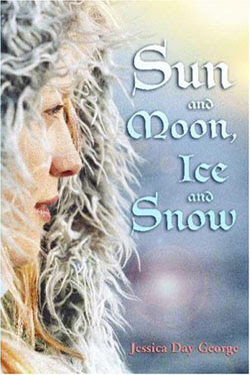 Sun and Moon, Ice and SnowAuthor:
Jessica Day George
Genres:
Young Adult Fantasy
Pages:
336
Published:
2008
Publisher:
Bloomsbury USA Childrens


Blessed—or cursed—with an ability to understand animals, the Lass (as she's known to her family) has always been an oddball. And when an isbjorn (polar bear) seeks her out, and promises that her family will become rich if only the Lass will accompany him to his castle, she doesn't hesitate.

But the bear is not what he seems, nor is his castle, which is made of ice and inhabited by a silent staff of servents. Only a grueling journey on the backs of the four winds will reveal the truth: the bear is really a prince who's been enchanted by a troll queen, and the Lass must come up with a way to free him before he's forced to marry a troll princess.
I LOVED THIS BOOK! It is simply fantastic! I read it in two days, staying up until 3:00 a.m. the second day because I couldn't put it down. Another 5 out of 5 book from me this year.
I read Dragon Slippers and liked it very much. I gave it a 4.5 (although I never got around to doing a real review of it here. Sorry.) So when Sun and Moon, Ice and Snow came out, I rushed to get it. And it is worth every penny of the hardback price!
This story is based on the Nordic fairy tale, East of the Sun, West of the Moon, with a bit of Beauty and the Beast thrown in. It's similar to East by Edith Pattou which I also liked very much, but East is definitely for an older teen reader.
Sun and Moon, Ice and Snow has a lighter touch, is an easier read, and it also has some very original moments in it. I loved the relationship between the lass and her older brother. I thought the unfolding of the mystery at the bear's castle was very well done. It slowed down a bit for me when the lass visited the four winds, but then picked up again when she made it to the troll's palace. Overall, it was absolutely wonderful. Read it!
I recommend this book to anyone who enjoys fairy tale fantasy. It is a great one.
Related Posts