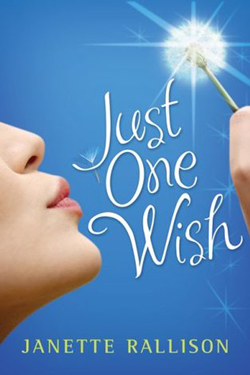 Just One WishAuthor:
Janette Rallison
Genres:
Young Adult Realistic/Issues
,
Young Adult Romance
Pages:
272
Published:
2009
Publisher:
Putnam Juvenile


Seventeen-year-old Annika Truman knows about the power of positive thinking. With a little brother who has cancer, it's all she ever hears about. And in order to help Jeremy, she will go to the ends of the earth (or at least as far as Hollywood) to help him believe he can survive his upcoming surgery.

But Annika's plan to convince Jeremy that a magic genie will grant him any wish throws her a curveball when he unexpectedly wishes that his television idol would visit him. Annika suddenly finds herself in the desperate predicament of getting access to a hunky star actor and convincing him to come home with her. Piece of cake, right?
When Annika's little brother faces the prospect of surgery, she is determined that he will pull through successfully. A firm believer in the power of positive thinking, she convinces Jeremy that she has a magic lamp that will grant him a successful surgery and his greatest desire—which she believes is a Teen Robin Hood action character. Jeremy upsets her well-made plans when he wishes instead to meet the "real" Teen Robin Hood, an actor from his favorite TV show.
Annika sets off to make Jeremy's wish come true by taking an extended road trip from Nevada to LA with her best friend Madison. They sneak onto a closed studio where Teen Robin Hood is filmed and stalk Steve Raleigh, the actor who plays the part. Through a series of ridiculous situations, Annika and Steve end up making the return trip to Arizona together, stopping by his home first. It's crazy, funny, and at times unbelievable, but this is a teenage girl's dream come true and girls will love this bit of wish fulfillment.
There are some parts that stretch credulity a bit, like the aforementioned sneaking into a closed set. It seems a bit too easy. Also, that she catches the heart of the handsome TV star and generates feelings in such as short time. And that he would actually come home with her. But still, the "it could happen" scenario is part of what drives a light-hearted romance and I'm willing to believe it for the fun of the story.
The best part of the book, however, is the relationship between Annika and her brother. It is sweet, tender and heart-tugging. I like that they're close, where so many teen books these days have siblings at each others' throats.
Janette's usual humor shows up in this book, even though it deals with a serious, and often sad, topic. There were places where I laughed out loud at Annika's antics. The romance was sweet and clean with just a bit of kissing. I recommend it to teen girls who like light-hearted romance.
Related Posts