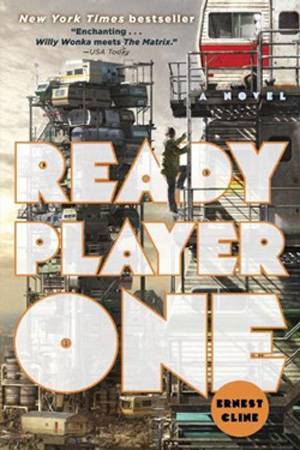 Ready Player OneAuthor:
Ernest Cline
Genres:
Young Adult SciFi/Futuristic
Format:
eBook
•
Pages:
386
Published:
2011
Publisher:
Crown Publishing Group
Source:
Purchased

|

This book may not be suitable for all readers.
In the year 2044, reality is an ugly place. The only time teenage Wade Watts really feels alive is when he's jacked into the virtual utopia known as the OASIS. Wade's devoted his life to studying the puzzles hidden within this world's digital confines—puzzles that are based on their creator's obsession with the pop culture of decades past and that promise massive power and fortune to whoever can unlock them.

But when Wade stumbles upon the first clue, he finds himself beset by players willing to kill to take this ultimate prize. The race is on, and if Wade's going to survive, he'll have to win—and confront the real world he's always been so desperate to escape.
I received this book in exchange for an honest review.
This book was recommended by friends who know I love Young Adult dystopian/futuristic stories. While the geek in me loved the tech in this book (there are days when I think I might prefer a world like that), and I could certainly appreciate the references to 70s/80s culture (Rush 2112 was my favorite album in high school), this is going to be a slow read for teens and a lot of parents will not approve.
We see the world from the point of view of Wade Watkins (aka Parzival), who begins as a very socially isolated and awkward teen. His personality doesn't change much throughout the story. As far as likeability goes, he's pretty self-centered. I get it, he's a smart guy, but he has zero personality and he's a braggart and a bully at times. I liked his friends, Aech and Art3mis, much better. The other characters in the book, including the bad guy, seem rather clichéd and predictable, with motivations that feel over the top.
There are extremely long passages describing the various games, how to play them, as well as the history and culture behind the clues. There isn't a lot of dialog, and what little there is often sounds clumsy and forced. In retrospect, it did kind of sound like the way some of my really nerdy friends talk. However, I want the illusion of nerd in my books, not actual nerd.
There was violence, mostly avatars fighting and killing each other, but there were some human deaths/murders, as well. Most of the real death occurred off-screen.
The best part of this story is the actual search for the three keys and gateways leading to the hidden egg, and the cool online tech encountered along the way. I mean seriously, you can create an avatar to look and be anything you want, then earn points to visit a whole galaxy of awesome themed planets. You interact with other avatars, go to school, fight monsters and bad guys—all from the comfort of your home or private space. And then the entire avatar world gets to seek millions in the form of a quest with clues. That. Is. Cool.
Even with the slower pace of the exposition and the characters I had a hard time relating to, I still would have given this 4 stars based on concept coolness alone—and honestly, I read the entire book and liked most of it, EXCEPT…
There is a lot—and I mean A LOT, as in frequent and varied—of swearing in this book. I'm pretty good at skimming past the occasional swear word, but there was so much that it kept pulling me out of the story. It was unnecessary and distracting. There were also references to sexuality and how isolated teen boys deal with that—not pictures I want in my head. And not things I'd want the teenagers in my life to be reading.
Yes, the cool stuff was really, really cool but the swearing greatly diminished my overall enjoyment. I recommend it only to adult readers who like gaming, and who don't mind really bad words.
Related Posts