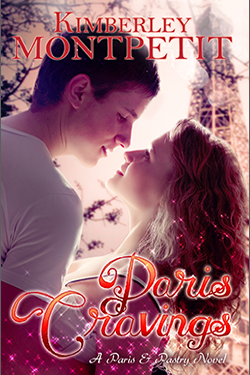 Paris CravingsSeries:
Paris & Pastries #1
Author:
Kimberley Montpetit
Genres:
Young Adult Romance
Format:
eBook
•
Pages:
308
Published:
January 2014
Publisher:
Spellbound Books

|


Chloe Dillard's life has always been complicated. She has a mother who is a neurotic romance novelist and a boyfriend who's been pressuring her to go all the way. After The Worst Night of Her Life Chloe escapes on a trip to the swoon-worthy city of Paris where she becomes stranded after an accident with high heels and a pastry box.

Saved by a French boy with chocolate-brown eyes, Chloe begins to wonder if being lost in Paris is the chance of a lifetime. But as attracted as she is to the gorgeous and oh-so-kind La Patisserie shop boy—even he has a girlfriend.

The police are tracking her down, Mom's having a nervous breakdown when she goes missing, and Chloe just wants to have her dream of a happily-ever-after.

What's a girl to do in the most romantic city in the world?
I received this book in exchange for an honest review.
My good friend Kimberley Montpetit asked if I'd be interested in reviewing her book and I said YES! Because, um…
1) We are BFFs on Facebook, and
2) I've read all of her Middle Grade books that she writes under another name, and loved them.
I expected no less from her alter-ego in this YA novel—and I wasn't disappointed.
Chloe is having boy trouble at home. Her steady has given her an ultimatum, demanding a more physical relationship. She doesn't feel right about it and a school trip to Paris is a great way to clear her head. I like that she doesn't give in to the pressure and stays true to what feels right to her.
Paris is dreamy and Jean-Paul is adorable and cute and almost too good to be true. The ending is a little bit "happily ever after," but I don't even care at all. I loved it!
This is a fast, fun, and clean read for teen girls. There's some kissing and Chloe spends some time thinking of the implications of the situation with her boyfriend, but all of it's handled with taste. A few mild swear words.
Paris Cravings by Kimberley Montpetit is totally endorsed by moi!
(Notice how I snuck that French word in there?)
What was that? You want to know the Middle Grade books I mentioned earlier? Sure, I'll tell you. They are
And in case you don't believe that Kimberley and I are close personal friends…
Oh and did I mention, there's a
GIVEAWAY

!
Related Posts