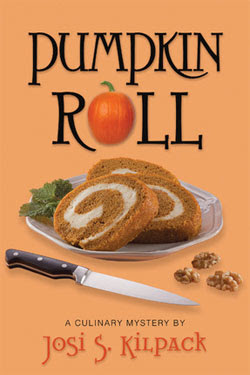 Pumpkin RollSeries:
Sadie Hoffmiller #6
Author:
Josi S. Kilpack
Genres:
Cozy Mysteries
Format:
Paperback
•
Pages:
368
Published:
2011
Publisher:
Shadow Mountain


Sadie Hoffmiller is looking forward to spending her favorite baking season of the year making delicious New England recipes in Boston, Massachusetts, with her favorite leading man, Pete Cunningham, as they babysit his three young grandsons. But when the boys insist that Mrs. Wapple, the woman who lives across the street, is a witch, Sadie and Pete are anxious to distract the boys from such Halloween-induced ideas.

However, it gets harder and harder to explain the strange things that keep happening, particularly after Sadie learns the eccentric Mrs. Wapple has been attacked in her home.

As the unexplained occurrences escalate, Sadie finds herself embroiled in yet another mystery with life-or-death consequences. Can Sadie discover whoever—or whatever—is behind the mystery before anyone else gets hurt? Or will this be Sadie's last case?
Josi Kilpack is on a roll!
Okay, so puns are lame—but I couldn't help myself.
Last weekend, I had three books I've been dying to read sitting on my nightstand. It was a very, very tough decision as to which to read first.
But because Josi S. Kilpack has NEVER failed to entertain me, I decided on Pumpkin Roll, book 6 in the Sadie Hoffmiller Culinary Mystery Series.
And yes, Josi did it again!
If you like culinary mysteries, the Sadie Hoffmiller series is my absolute all-time favorite. I like that Sadie is mature (but not old), kind, creative, interested in others, and trying to redefine herself in life—kind of like me.
This series just keeps getting better and better—and harder for me to figure out ahead of time. Pumpkin Roll totally surprised me when the who-dunnit was revealed. Not totally surprised in a way that it didn't make sense and I wanted to throw the book across the room (I hate books like that) but totally surprised in the way that Josi very deftly left clues and hints all along the way, but kept them subtle enough that I was still guessing at the end. (I had it narrowed down to two.)
Pumpkin Roll is book 6 in the series, and while some of the books can be read out of order, you really need to read previous ones to fully enjoy this one.
Giveaway
In conjunction with the release of Pumpkin Roll the author, Josi S. Kilpack, and the publisher, Shadow Mountain, are sponsoring a contest for a new iPad. To enter, leave a comment in the comment section of this blog before November 1, 2011. Winners will be announced and notified November 3rd 2011.
For additional ways to enter, go to www.josiskilpack.com
Sadie Hoffmiller series (in order):
Lemon Tart
English Trifle
Devil's Food Cake
Key Lime Pie
Blackberry Crumble
Pumpkin Roll
Related Posts