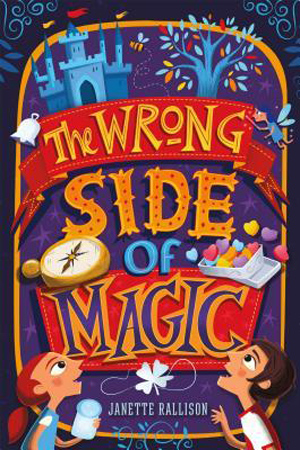 The Wrong Side of MagicAuthor:
Janette Rallison
Genres:
Middle Grade Fantasy
Format:
eBook
•
Pages:
336
Published:
August 23, 2016
Publisher:
Feiwel & Friends
Source:
Book Tour

Hudson Brown stopped believing in magic long ago. That is, until the day he is whisked away to the magical land of Logos by a curious compass given to him by his off-beat neighbor, Charlotte.

Hudson discovers that Logos is a land ruled by words, thoughts, and memories. A fairy might ferry you across the river for the price of one memory. But be sure to look out for snarky unicorns, as they will see through those who are not pure of heart.

Not understanding the many rules of Logos, Hudson is quickly saddled with a troll curse. Charlotte, who, along with her father, was banished from Logos, can help get rid of the curse—but only if he agrees to find the lost Princess of Logos in return.
I am a HUGE fan of Janette Rallison!
I love Janette Rallison as an author. I have loved every book that she's written. So when I was contacted about doing a review for the release of The Wrong Side of Magic, of course I said YES!
But. Then my day job went nuts and I haven't had a chance to read it yet, which makes me sad. So instead of a review, I'm going to post a short excerpt from the book.
And also tell you, that I pretty much buy Janette Rallison's books as soon as they are released, even if I have no clue what they are about—because I like her writing that much.
Some of my favorites are:
Excerpt
Hudson heard another low, rumbling noise, this time directly over his shoulder. He wouldn't become troll dinner without a fight. He spun around, swinging his arm as he did. His fist didn't connect with anything. The noise hadn't been a troll. Two unicorns stood on the path behind him, their heads lifted too high to be hit by the arc of his swing. Hudson let out another startled scream. He was getting quite good at those. He put his hand to his chest and sat back down on the ground, too relieved and surprised to speak.
One unicorn was a gray color—not the gray of rocks or dirty sidewalks. It was the soft gray of morning mist. The other unicorn was the tawny brown of glistening honey. The gray unicorn took a step back and turned to the unicorn beside him.
"Did you see that, Nigel? That human tried to strike me."
"Most uncivil," the tawny unicorn agreed. Both spoke with a sort of British-sounding accent.
Hudson got to his feet, gaping at them. "You can talk?"
The gray unicorn tossed his mane, warily keeping an eye on Hudson. He still spoke only to the other unicorn. "What sort of incantation do you suppose the boy was performing on the road a moment ago?"
The tawny unicorn leaned his head toward his companion. "I don't think that was an incantation. It sounded distinctly like cursing to me."
"He was cursing the road?" the gray unicorn asked. "Most barbaric."
"You don't understand," Hudson said, still so surprised that it was hard to think straight. He held up the compass for them to see. "I accidentally flipped the knob off the compass because, well, I heard you grunting and I thought you were going to eat me or something—"
The unicorns let out a simultaneous "Hmmph!" and turned back toward each other. In a lowered voice, the tawny unicorn said, "All those who vote that the human boy is impure of heart, raise their horn." The gray unicorn immediately raised his head so his horn stood straight up. The tawny unicorn lifted his head, as well. "Impure it is, then."
They trotted around Hudson, noses twitching. It was only when the unicorns declared Hudson to be impure that he remembered Bonnie's insistence that unicorns helped travelers who were pure in heart.
"Wait!" Hudson turned and walked after them. "I've got a pure heart. Really, I do!" He hurried to catch up. He had to convince them that he was good. Otherwise, he had no idea how to get home.
The unicorns didn't stop. As they continued down the path, the gray one glanced over his shoulder. "It's following us now."
"Don't make eye contact with it, Cecil. That just encourages them."
At that, the unicorns went from trot to canter. Hudson ran, plodding uselessly after them. "Come back!" he called. "I'm pure!" They swished their tails to shoo him off and galloped away, disappearing as they went around a twist in the path.
And here's the Giveaway (ends 4/15/16):
Tour and prize coordinated by Loving the Book.
Related Posts