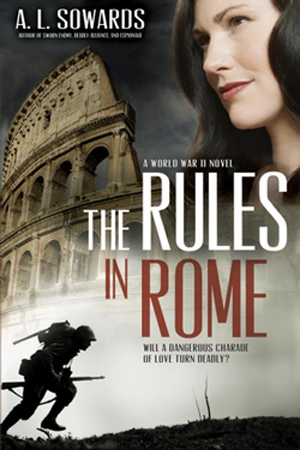 The Rules in RomeAuthor:
A.L. Sowards
Genres:
World History
Format:
eBook
•
Pages:
304
Published:
February 3, 2015
Publisher:
Covenant
Source:
Library


A Thrilling World War 2 Historical, with a Dash of Romance
I admit, historicals aren't my favorite reads. But when they're really, really good, I like them. This one is really good.
This is a gripping and deadly story of valiant men and women, battling against the enemy in Nazi-occupied Italy. From sending coded messages back to the allies, to impersonating a German officer, the courage of these characters is amazing and inspiring.
What did I think?
First, the setting and the history was amazing. I was totally absorbed. When the Nazis were coming and the main characters were in danger, I felt my stomach tighten with the intensity of it.
The plot took historical events and wove a unique story about individuals. Gracie was amazing. She volunteered to go behind enemy lines to be a radio operator, keeping the Allies informed of the movements of the Nazi army. She sees death and heartbreak all around her, and yet she continues on, even when she has a chance to give up and go home.
Her partner, Bastian, shows great courage when he takes the identity of a German officer. But there's a steep price to be paid when fellow officers become suspicious. And he pays it.
So many times in this story, I felt a lump in my throat and I just wanted to cry. This is rare for me and testament to the writing style.
The romance is clean, and although it deals with the ravages of war without pulling any punches, it doesn't cross the line into sensationalism or gratuitous violence. I recommend this book to adults who like historical fiction and strong characters. It's probably okay for older teens, but parents should give it a read first. I give it 4 1/2 STARS.
Related Posts