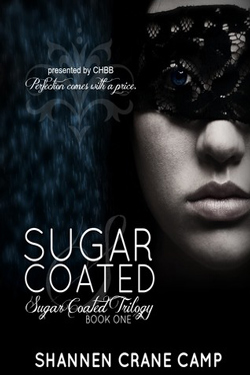 Sugar CoatedSeries:
Sugar Coated #1
Author:
Shannen Crane Camp
Genres:
Young Adult SciFi/Futuristic
Format:
eBook
•
Pages:
268
Published:
September 10, 2013
Publisher:
Crushing Hearts and Black Butterfly Publishing


An unhealthy addiction to sugar cubes, a deep-seated fear of water, and universal luxury—these are the simple things that make up 18-year-old Brynn's Utopian existence. Why, then, is her perfect life also plagued with unanswered questions?

Like every other resident of the planet Halcyon, Brynn's home provides everything she needs, money is unheard of, and life is perfect. But unlike the rest of Seaside's residents, Brynn has questions.

Why can't people leave the city? Why does the ocean fill everyone with terror? Who are the Workers?

Not only is Brynn curious where others are compliant, but she suffers from chronic nightmares of an angelic woman torturing her for information she doesn't possess. But these are more than just figments of her imagination; they're memories of things that never happened.

When Brynn meets Jonah, a brilliant, library-dwelling boy who shares her questions and her curiosity, they formulate a plan to find answers. Somewhere, the perfect veneer of Halcyon's instant gratification hides a city that only Brynn knows about—a city she and Jonah are determined to find. But will finding the city give them answers, or simply uncover the horrific truth behind the perfection?
This was such a fun read! The plot was solid, the dialog was great. I loved the characters—I think that's one of the strong points of this story. Brynn is determined and brave with some quirky habits, but most importantly, she is curious. And that's what gets her into trouble. It's also what I loved about her. I like to think I'm that type of person too. (But wow, maybe not. I'd love to have some of that tech!)
Although there are two boys, Ty and Jonah, vying for Brynn's attention, it didn't read like the typical YA love triangle. Maybe because Brynn isn't your typical love-sick girl. She doesn't make a choice by the end of the book because, well, there's a mystery to solve and a world to change. And I'm not sure which boy I'm rooting for yet. I like Ty because he's solid and steady. He's got her back. And I like Jonah because he questions things like Brynn does.
The mystery of Brynn's world is twisty and the flashbacks and dreams add to the confusing feeling, while dropping little clues here and there. I didn't completely figure it out ahead of time—and I love that.
I recommend this to anyone who likes YA dystopian.
Related Posts