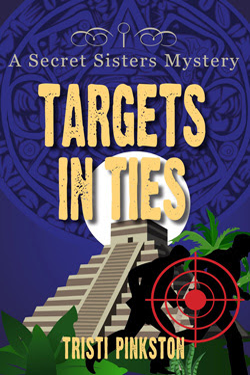 Targets In TiesSeries:
Secret Sisters #4
Author:
Tristi Pinkston
Genres:
Cozy Mysteries
Format:
Paperback
•
Pages:
258
Published:
2012
Publisher:
Walnut Springs Press


After two long years, Ren's mission is finally over, and it's time for Ida Mae, Arlette, and Tansy to travel to Mexico to pick him up. They have their itinerary all planned out—visiting the ruins in the Yucatan, shopping, playing in the sand and surf—and then they'll head to Ren's mission home and be reunited with that dear boy.

But a wanted antiquities thief crosses their path, and soon the ladies find themselves tangled up in a web of lies, intrigue, and costly jewelry. Held hostage by men desperate for riches, they do what only they can do—keep their heads about them, plan their escape, and discuss the proper making of tortillas. Will they survive their most harrowing adventure yet?
I am a big fan of the Secret Sisters cozy mystery series. Since this is book #4, here's a quick summary of the first three books (with just a few spoilers):
In Secret Sisters, we meet Ida Mae, Arlette and Tansy, the Omni 2nd Ward Relief Society presidency. In their zeal to provide service to ward members, they get involved in a murder mystery. With the help of Ida Mae's computer genius nephew, Ren, and Arlette's granddaughter, Eden, (who start a budding romance) they catch the bad guys but then have to face the consequences of their less than legal activities. (Read my review here.)
Dearly Departed takes Ida Mae undercover at a nursing home, where she and her sidekicks search for a killer. There she meets a handful of quirky characters, including George, a potential love interest. We also meet Kevin, who is trying to win Eden's heart away from Ren. (Read my review here.)
In Hang 'Em High, the ladies take off to a dude ranch, to reunite Ida Mae with her estranged son, Keith. Hi-jinks ensue as once again there are dead bodies to find and mysteries to solve, but this time without Ren (who is on his mission). (Read my review here.)
Which brings us to book #4, Targets in Ties. I found this book to be laugh-ou-loud funny! Ida Mae, Arlette and Tansy crack me up—especially their ongoing discussion of jeans vs polyester (which started in the last book and is still going on in this new one). They each have their own unique and distinct personalities. Intriguing & well-written. While in the other books, Ida Mae was my favorite character, in this one, I've really come to appreciate Arlette and her dry humor. In fact, I've decided I want to be Arlette when I grow up!
The plot line kept me guessing. Who's really good and who's really bad? I love that. While I don't mind figuring things out early in a cozy mystery—it's the journey, not the final resolution that keeps me reading cozies—it's really fun to be stumped.
And when the crew finally makes it home—wowza! I wan't expecting that ending. I loved it!
If you enjoy quirky cozy mysteries, you're going to love this one!
Want to win a cool prize?
After this trip to Mexico, Ida Mae, Arlette and Tansy are going to have LOTS of photos for scrapbooking! They could certainly use this scrapbook pack that Tristi is giving away.
To enter, leave a comment on this blog post, then go visit Tristi's blog at http://www.tristipinkston.blogspot.com and become a follower. You will then be entered to win this fun scrapbooking pack, including paper, tags, two decals, and metal tag frames. You have until midnight Mountain time on March 3rd to enter to win.
For all the tour stops: CLICK HERE.
Related Posts