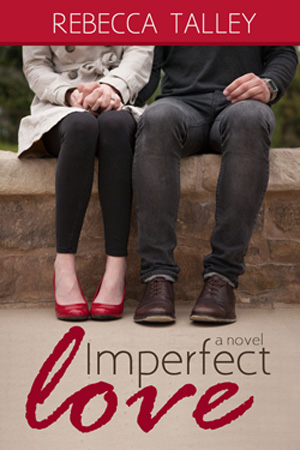 Imperfect LoveAuthor:
Rebecca Talley
Genres:
Women & Family Issues
Format:
eBook
•
Pages:
283
Published:
March 1, 2014
Publisher:
Indie


Lauren Wilson is well on her way to her happily-ever-after. She's passionate about her career as a middle school English teacher, she adores her handsome, hard-working husband, and with a baby finally on the way, her perfect life is within her grasp.

But then a devastating test result changes everything. Forced to choose between her baby and her husband, Lauren makes the only decision she can live with, and she returns to her small hometown in hopes of rebuilding her shattered life.

Ethan Campbell is a gifted photographer who travels the world and has no desire to settle down. When his mother dies, he must go home to settle her estate. Then it's back to exciting adventures across the globe.

When Lauren crosses paths with Ethan, her teenage crush, old feelings resurface—feelings she's not prepared to face. Will Lauren have the courage to trust again or will she spend her life alone?

Imperfect Love is a story about sacrifice, healing, second chances, and discovering that although love isn't always perfect, sometimes it's the imperfect love that's the sweetest of all.
I received this book in exchange for an honest review.
I have a special place in my heart for books that deal with issues faced when having a handicapped child. I really liked Rebecca Talley's previous book, The Up Side of Down, which looks at how a Down Syndrome child can change and challenge the family dynamics, but also bring a huge dose of love. I wasn't quite as enamored by this book.
I would have liked there to be more transition time between the break up of Lauren's marriage and her feelings for Ethan. I would have liked to see more depth in her relationships with her mother and sister. I would have liked a lot more information about the realities of dealing with a Down Syndrome child—walking with Lauren as she researches and learns about what is ahead of her.
While this is not a bad book, it didn't quite hit the spot for me. It is fine as a light contemporary romance—and that's what you expect from looking at the cover. I think it fulfills those genre expectations in a satisfying way.  But I was expecting something different, based on the book's description.
So here's my qualified rating:
If you're looking for a book that really takes a hard look at family issues, coping with loss, grief, and coming to terms with the ups and downs of life, this might not be your best choice. On that basis, I give this book 3 1/2 stars.
BUT. If you're looking for a romance where there's a good guy at the end who steps up and loves Lauren and her child for exactly who they are without expectations and/or pressures to be perfect, then this is a sweet story about learning to love again. On that basis, I'd give it 4 stars.
Related Posts