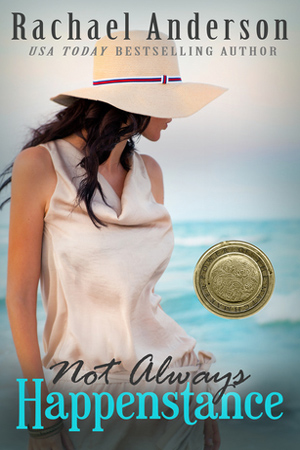 Not Always HappenstanceSeries:
Power of the Matchmaker #2
Author:
Rachael Anderson
Genres:
Contemporary Romance
Format:
eBook
•
Pages:
200
Published:
February 1, 2016
Publisher:
HEA Publishing
Source:
Book Tour


Lani has lived in Hana, Hawaii for five years. She's learned to surf, fish, dive, and manage her grandmother's bed and breakfast. She's also learned to take one day at a time the way it should be taken—relaxed and unrushed, savoring every moment.

But, like a large wave on the brink of breaking, her life is about to crash out of control. A proposal of marriage, a conniving grandmother, a cryptic Asian woman, and a handsome guest, and suddenly everything calm begins to churn, everything clear becomes confused, and all that was normal segues into peculiar.

As Lani struggles against the current to hold her ground, she realizes that she can either continue to fight and eventually lose, or take a take a leap of faith, hold her breath, and ride the wave wherever it takes her.
I received this book in exchange for an honest review.
A Magical Romance series by 12 best-selling authors!
Not Always Happenstance is part of The Power of the Matchmaker series. While each book is a stand-alone read, they all contain the recurring character of Pearl, the matchmaker.
The story of Lani and Easton is takes place against the backdrop of Hawaii. I loved the rich descriptions and culture that weave through the story almost as a counterpoint to the plot. I really felt like I was there. Pearl is back on the job as matchmaker and I enjoyed her character. (If you haven't read Pearl's story, you really must!)
Lani is struggling to discover what she really wants and where she belongs—torn between a mainland life with the "safe" guy she's known for years and the developing sense of home she's found in Hawaii. With Easton's arrival, that decision is further complicated.
Easton has a life of adventure and travel that he loves. No one has ever made him even think of settling down. Freedom is a lot to give up. But when he decides Lani is worth it, he still has to convince her that he is worth the risk.
[bctt tweet="Will Lani take a leap of faith to find true love? NOT ALWAYS HAPPENSTANCE #amreading"]
What did I think?
I loved the characters in this story. Lani and Easton both have strengths and weaknesses that make them well developed and believable. Lani's grandmother is a hoot as she tries to play matchmaker, with Pearl's help.
While the over-arching plot of the love story was predictable in many ways, the characterizations and setting made it unique and enjoyable. The story was well-written and I found myself reading late into the night because I just got caught up in the story. I didn't want it to end.
This is the first book I've read by Rachael Anderson, but I'm thinking I definitely need to read more of her writing.
If you like light contemporary romance, this is a story for you. I give it 4 STARS.
Click here to find other reviewers participating in the blog tour.
And here's the Giveaway: $50 Amazon Gift Card or Paypal Cash (ends 2/29/16):
a Rafflecopter giveaway

Open only to those who can legally enter, receive and use an Amazon.com Gift Code or Paypal Cash. Winning Entry will be verified prior to prize being awarded. No purchase necessary. You must be 18 or older to enter or have your parent enter for you. The winner will be chosen by rafflecopter and announced here as well as emailed and will have 48 hours to respond or a new winner will be chosen. This giveaway is in no way associated with Facebook, Twitter, Rafflecopter or any other entity unless otherwise specified. The number of eligible entries received determines the odds of winning. Giveaway was organized by Kathy from I Am A Reader and sponsored by the author. VOID WHERE PROHIBITED BY LAW.

Related Posts