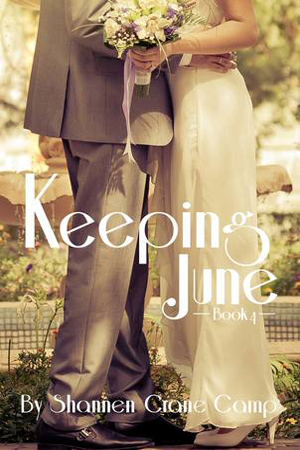 Keeping JuneSeries:
June #4
Author:
Shannen Crane Camp
Genres:
Contemporary Romance
Format:
eBook
•
Pages:
167
Published:
December 21, 2015
Publisher:
Sugar Coated Press
Source:
Purchased


June Laurie has spent the better part of her young adult years in the Hollywood world of fame, envy, and rumors, and has managed to come out of it mostly unscathed.

Now that she's finally followed her heart and married her true love, she knows she's found the perfect end to her story. But at twenty-two years old, it turns out her story is only beginning—and marriage, it seems, is more of an opening act than a finale.

When fans of June's television show start spreading online rumors about her faithfulness to her new husband and fabricating an off-set romance between her and her costar, she learns that even marriage offers no immunity from the gossip that always seems to haunt her. With complications in her personal and professional lives threatening to topple them both, will June be able to hold to her beliefs and her newfound happiness, even as what she thought was her perfect ending transforms into the challenges of reality that lurk beyond the fairytale?
A Sweet End to a Wonderful Series
This is the last book in the June series. I have read all of them and loved each one. In the first book, Finding June, June is only 16 and starting a career as an actress. It is definitely a Young Adult novel and would be enjoyed by teen readers and adults who like YA fiction. Over the course of the books, Chasing June (book 2) and Catching June (book 3), June grows older, goes to college, and learns what it means to really love someone. Although she matures and faces more adult situations, the books stay clean and positive.
In Keeping June (book #4 and the conclusion of the series), June marries and faces the difficult task of learning to be an adult. I don't want to give away any spoilers, but she and her husband face one of the hardest trials in newlywed life. While it is definitely an adult issue, again, the book is clean and ends positively.
What did I think?
There are two things to know about June: 1) she loves vintage—vintage fashions, vintage homes, and vintage attitudes and gender roles. And 2) she has terrible anxiety issues. This leaves her open to constantly second-guessing herself. She is also LDS, which makes her fairly conservative with strong moral values. Camp stays true to this characterization of June without going overboard. Yes, sometimes June obsesses a little much about things, but that is part of who she is.
I loved the other characters too—her husband (don't want to give this away if you haven't read the other books), who is an absolute sweetheart; her cast mates Ryan, Benjamin and Dez. Benjamin cracks me up with his germ phobias. And Candice, as June's best friend, almost steals a few of the scenes as a goth make-up artist who hates interacting with people. I laughed out loud when I read what her sisters did for her birthday.
[bctt tweet="Will real life destroy June's happily ever after? KEEPING JUNE #amreading "]
The pacing moved along relatively quickly, and it was an easy read. I found myself reading far longer than I'd planned without realizing the time had gone by. The romance was clean, but it didn't overtake the story line, which was more focused on the issues of becoming a married woman, learning to fully trust her husband, dealing with gender stereotypes, and one other giant issue that has June doubting her faith.
But as with all the other June books, no matter how tied up the plot gets, June works her way out of it eventually and ends with a positive message and outcome. I liked the message at the end, of acceptance and faith, and having hope for the future.
I recommend this to anyone who likes a good clean read with fun characters. It gets 4 1/2 stars from me.
Related Posts