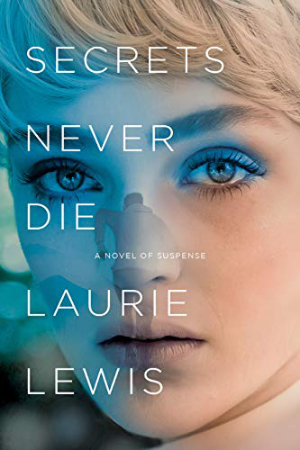 Secrets Never DieAuthor:
Laurie Lewis
Genres:
Suspense/Thriller
Format:
eBook
•
Pages:
328
Published:
July 1, 2019
Publisher:
Covenant
Source:
NetGalley

Tallie Brown's life has never made sense. Raised in isolation by her mother, Julia, Tallie was dragged suddenly and without explanation from one third-world outpost to another until life normalized seven years ago when Julia took a position on a mountaintop in the Pacific northwest. But when Julia unexpectedly dies, Tallie uncovers clues suggesting that Julia had a secret life.

Journalistic phenom Jackson James is still recovering from the devastating mistake that flatlined his promising career. Now he's paying the price, working as the editor of a syrupy community rag in a posh D.C. suburb. But when the very man who destroyed him drops a tantalizing lead about a potential D.C. scandal, the reporter sees his chance for redemption and sets off to chase the story. Jackson's investigation leads him to Cutler's Ridge, a dying Virginia coal town, and directly into the path of the mysterious and beautiful Tallie.

As these two mistrustful loners follow their leads, their stories begin to intertwine until they reach an alarming conclusion– something terrible happened in Cutler's Ridge. As they doggedly pursue the story, the town's cold reception spirals into threats and danger, proving that there are those who will stop at nothing to keep the past hidden forever– because secrets never die.
I can't rave about this book enough!
Okay, first off, one of my favorite types of books are suspense novels written kind of like British TV shows. They introduce a bunch of characters, and you don't know how they relate at first. You don't know who the bad guy is or what's going on, but then as you read more you find the pieces fitting together until you finally get a complete picture and—if written well—a satisfying reveal which you only figure out seconds before the author tells all.
The problem is a lot of these type of books have horrendous swearing, graphic violence, and other unsavory parts—which just rub against my sensibilities and often pull be out of the story.
But this book—it's all of the clever twisty-turns stuff, filled with surprises, but without all the grit. And I loved it!
[br]
What did I think?
Characters—they were amazing. Well-developed, believable, varied, surprising, and true to themselves throughout. Very memorable and distinct—which you need in a novel like this.
Plot—oh. my. goodness. This went all over the place, but in a very good way. And toward the end when it all started coming together and you figured out who was what and where and when—amazing!
I rarely email an author directly, but this time I did—and I begged her to keep writing this type of book. (In the past she's written historical novels and romances.) I hope she listens because it was that good.
There was some violence—kidnappings, deaths, etc.—but they weren't graphic. No sex. No swearing. Just clever and clean.
If you like suspense and TV shows like Broadchurch and Lewis, you'll love this book. I recommend it to readers 14 and older and give it the full 5 STARS.
Related Posts