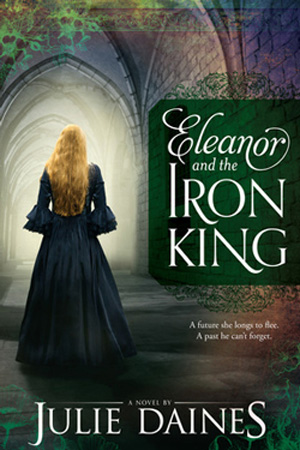 Eleanor and the Iron KingAuthor:
Julie Daines
Genres:
Historical Romance
Format:
eBook
•
Pages:
224
Published:
August 1, 2015
Publisher:
Covenant
Source:
Gift


Eleanor de Lacy has been bartered: her hand in marriage in exchange for a truce with her father's sworn enemy. Now the headstrong beauty must leave her ancestral home and the man she secretly loves to become the wife of the infamous Welsh King Brach Goch. Tales of this cruel leader paint a chilling picture of a ruthless warrior—all Eleanor knows for certain is that he is the villain responsible for the vicious attacks on her people and the death of her beloved brother. Though she must marry against her will, she vows Brach Goch will never possess her heart.

Her arrival at the inhospitable castle Bryn Du confirms her worst fears—a ghost walks the halls of the castle, and Eleanor receives an ominous warning from the uneasy spirit: Brach is not to be trusted. Though resigned to a life of misery, Eleanor soon realizes all is not as it seems, for Brach is not the monster she dreaded but is a handsome and charming man whose gentle ways soon undermine his bride's resolve to lock her heart. Clinging desperately to her pride, Eleanor finds herself trapped in a web of murder and deceit. And as the lines between good and evil become blurred, Eleanor must decide for herself who is to be trusted—and loved.
A Medieval Romance that Feels like a fairy tale!
From the description on Amazon, I thought this was going to be a fantasy. While there are some mysterious things happening, this is really a medieval romance.
It reads a bit like a fairy tale, and I have no idea if its historically accurate. I'm assuming it is, but if it's not I don't really care. It feels very medieval and historic, and I loved it.
What did I think?
I loved pretty much everything about this book. Eleanor is awesome. She doesn't just accept her arranged marriage and meekly follow along. She fights for respect and gets it.
Brac Goch, her soon-to-be husband, is gruff and stern at first. But as she gets to know him, she realizes he's not the cruel man his reputation leads people to believe.
The writing is good, the plot is involved and filled with intrigue, and the characters are strong enough to make them interesting.
If you like medieval period pieces, historical romance, or strong female leads, you'll love this. I give it 4 1/2 STARS.
Related Posts